Written by
Team Juggernaut
Get to know new Team Juggernaut athlete Maya Camille Winters, the 2012 North American Middleweight Strongwoman Champion and Runner-Up at the 2013 Strongwoman Fitness World Championships at the Arnold Sports Festival. Maya was also a professional rugby player, in addition to being a professor and contemporary artist/painter…
Name: Maya Camille Winters
Age: 33
City: Lansdowne, PA
Height/Weight: 5'5″ 152lbs
Occupation: Professor and Contemporary Artist/Painter
PRs: 240# atlas stone, 600 yoke for speed, 110 circus dumbbell, 405 DL
2012 NAS Strongwoman Middleweight National Champion
2013 Strongwoman Fitness World Championships – Runner up
Maya loading a 232 pound Atlas Stone!!
How Long Have You Been Training:
I started competing in strongman three years ago.
Discuss Your Athletic Background:  I competitively threw shot put and discus in high school and for 1.5 years in college.  College also marked the start of my rugby career which lasted for 13years.  I played on women's club rugby teams, on a women's premier league team, and for select territorial sides.
How Did You Get Introduced to Strongman: While training for rugby, I ventured into Iron Sport Gym in Glenolden, PA.  There are multiple strongman implements at the gym so naturally I wanted to experiment with them.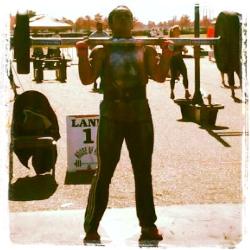 What Are Your Greatest Strengths and Weaknesses As An Athlete: Throughout the years competing, rugby and track &field included, I cultivated a consistent work ethic. In order to endure the mental rigor of competing, this is a must.  Sometimes seeing competitions as purely objective based and task oriented assists in not becoming overwhelmed.
What Upcoming Competitions Do You Have: 
5/25 Bigg Dogg Spring Fling
Rahway, N
6/22/13 – Keystone 4 – York, PA
Novice Men's division (just so I can stay under some heavy competition weights in preparation for nationals).
How Do You See the Sport of Strongwoman growing: There's plenty of energy in strongman right now.  If the athletes keep treating their training in a professional manner, the sport will thrive as a whole.  While competing at the Arnold Strongman fitness champs, I was exposed to a very serious "all in" type of athlete.  We need this mentality to foster a enteral emergence!
What Advice Do You Have for A New Competitor: Train smart and don't wait for too much external motivation. You are going to compete alone, so do not be discouraged if you are training alone.  I have a hard time with this.  Sure we see videos of powerlifting/bodybuilding/strongman greats training together but these are coordinated occasions.  Your motivation will be well nourished if it is intrinsic and coupled with consistent programming.
Also, EAT SMART.  Premium engines require premium fuel.  Sure, you don't have to eat like you're prepping for a physique competition, but you do want to take the time to supply what you deplete.