Written by
Team Juggernaut
Q: Hey Maya, thanks for taking the time to answer some questions. You recently competed at the Arnold Classic Strongman World Championships, recap your experience there for us…
Even on my down time at the Arnold, things just felt more calculated and controlled this year.  I was very pleased with my prep, performance and nutrition.  I knew going into the competition that a bloodbath was forthcoming.  If I didn't expect stiff competition, I wouldn't have considered registering for the comp.
Going into the Arnold, I knew there was an expected victor.  Entitlement offends me.  I pride myself on my work ethic and the level of respect that I have for other lifters. I considered every athlete a competitive threat-I mean this respectfully.  Quite a few of the lighter weight athletes posted blinding speeds in some of the event.  Stef Tropea, prior to her calf injury, did expected damage in the very first event.  Rachel Pyron, the most wee lifter of them all, fired through her yoke carry.  The weekend wasn't designed for the biggest or most experienced – the title was up for grabs.
I placed 1st in more events than any other competitor in my division so I am pleased with that
After day one, I was sitting in first pace but placed second overall.  Competing against lifters from Australia, Russia and other countries, I felt privileged and accomplished but not satisfied.  There is always more work to be done.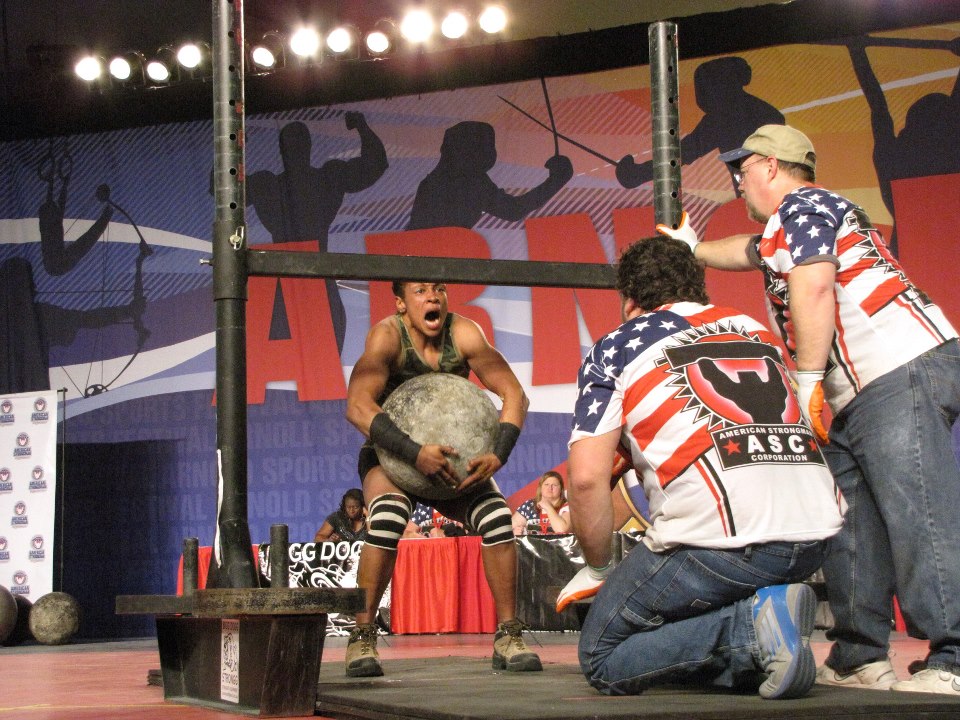 Q: You've competed in a wide variety of sports throughout your life, what has been your favorite and how have they helped each other? 
All throughout my childhood, I hustled my (then) husky little frame into any athletic activity available. My actual athletic career didn't start until  in high school where I joined the track & field team as a thrower.  Following high school, I continued to throw for a year then joined the rugby team.  I played for a total of 13 years as  a prop.  Once I retired from rugby, I started to focus on powerlifting and strongman. I've competed in a few crossfit comps and I'm currently participating in the crossfit open. I have to admit, I am finally the athlete that I have always wanted to be.
Each sport was challenging for different reasons:
-Throwing- the chilling solitude of this sport was a challenge.  However, I truly loved the sport.
-Rugby- Have you ever sprinted around for 80minutes at 5'5", 215lbs?  When I started, I was pretty unfit.  Initially lack of fitness made this game very challenging.  I also had to get used to accepting an occasional boot to the back and not being able to retaliate with a haymaker – not tht I didn't.
-Strongman- Challenges of strongman… trying not to  commit to every competition
-Powerlifting – Staying away from strongman events for an entire powerlifting cycle is EXTREMELY difficult
-Crossfit- I'm earthbound…gymnastics are toxins to my system lol.  At the end of the day, I'm a relatively athletic strength athlete with a huge emphasis on strength athlete lol.
I think the individual athletes I've competed with influenced me more than playing the actual sport. While playing rugby, I took the field with some of the most relentless athletes.  The first athlete to truly help me with my mental and physical prep as an athlete is a woman named Stacy Foley.  Stacy was a US Eagle, she played for the women's national team.  No matter what sort of physical or mental stress occurred on the field, Stacy was stoic and delivered the same animalistic performance in every game.  I've competed with a lot of skilled athletes but Stacy was a complete athlete.  I was a pretty loose canon when I started playing and I have Stacy to thank for lessons on poise and intensity.
Q: What advice would give to a woman looking to try out strong(wo)man competition for the first time?
A: North American Strongman sanctioned competitions typically provide novice divisions for the inexperienced athletes.  I'd suggest that anyone who wants to compete, find a competition in their area with a novice division and go for it.  It would be wise to try and get your hands on the implements prior to competing or doing some sort of event simulation.  The strongman/strongwoman community is very supportive; there are tons of online resources for newcomers.
As you consider competing at higher levels, consider consistent programming for obvious strength gaining reasons and to prevent I jury. Also, consider strongman specific programming. Build your base strength and then build your special strength.
Do not assume that you are too small, too weak, or possess any trait that would exclude you from competing.
Q: How do you balance your career with training at a high level?
A: I'm a painter/artist and art professor.  The tricky balance if teaching.  As I write this, I am preparing an art history lecture and will work on a commissioned painting just after that.  I'm swamped, I'm not going to lie.
Balancing my painting career is extremely difficult because my work is not portable.  I can't transport my 6'x7′ canvas, oils and mediums, brushes, and large drawing pads here and there.  My studio practice must be stable and consistent …no different that my training.
Training gets locked into my free moments.  I never miss a training session. Really time management is not my strong suit.  I just cram things into my schedule.  I used to train very early in the morning but after repeated lackluster training sessions I realized I was just training myself to suck!  luckily my schedule has changed, as it does semester to semester, and I can train a bit later in the morning.
Q: What are some unique challenges to being a female competing in such a male dominant sport?
Any challenges that I've experienced as a female lifter are pretty typical.  Limited opportunities for advancement and equivalent lauding and titles to the guys (i.e. the elusive PRO CARD) are two scathing issues.
If the female athletes continue conduct themselves with professionalism and commit to high level competitions that are available, I'd like to believe, progress will be made.  Validate yourself ladies, exhibit the professionalism that you want to experience.
Q: What does it mean to you to be an Iron Woman?
A:  "You're so big, you probably use two bars of soap"
– Loving grade school peer
"Being a hall safety will be good for you…all of the running around will help you lose some of that fat"
 –miserable grade school music teacher
"Whoa!  Did you see the way Maya slammed that girl for calling her a Tubby-two-by-four?!  I want her on my suicide soccer team!"  (1st round draft pick over here)
-A dope ass grade school peer who knew mass meant power
When I was a kid, as I've mentioned a million times before, I was chubby, cute as hell, but the chub equaled the adorable.  Regardless of the fact I was teased, I never shied away from athletics.  There was a part of me that loved being the biggest/strongest girl in school. I dreaded the teasing but loved the feeling of being indestructible.  
As an adult, I've embraced my ability to develop strength and muscle.  As an adult, I've embraced and directed my ability descend to the depths of my mind and conjure up productive will and rage.  I've embraced what I've been admonished for and made it a productive source of energy.  I embraced my size and strength then found athletic outlets (throwing events, rugby, strongman, and powerlifting) where I could really shine.
Training for me is liberty enriched – that is I love most about it.  I can think whatever I want about the bar.  I can be any horrific creature when there is weight on my back.  So, I love that I can transform and approach the obstacle of moving weigh in my own way.  As vain as this may sound, I also love the aesthetic product of training heavy and hard. I love to see muscle gains when I look in the mirror.  I don't care if I have muscles exploding out of my ears, if it makes me a better athlete, I'm game.
I will leave everyone with something I said before regarding women and training heavy….
"Musculature is not masculine.  Every female, unless born with some sort of disfigurement, has quadriceps, biceps, lats, etc.  Musculature is natural.  Oppressive ideals have excluded and disassociated women from this really awesome way of looking as a result of lifting heavy.  Archaic marginalization should not keep you from pulling some heavy deads experiencing the magnificence of an artfully executed clean and jerk."