Written by
Team Juggernaut
Welcome Alyssa Ritchey, Weightlifter/CrossFitter based in Grand Rapids, MI to Team Juggernaut. Alyssa is a farm girl from Ohio with a background in gymnastics and track with an addiction to Oreos. She won the Arnold Classic Weightlifting Championship in the 53kg weightclass with lifts of 70/89kg. Training out of 8th Day CrossFit, Alyssa finished 6th in the Central East Region during the 2014 Open and has her sights set on a berth to the CrossFit Games with a strong performance at this upcoming weekend's regionals. Get to know Alyssa…
Name: Alyssa Ritchey
Age: 25
Height/Weight: 4'11/52kg
Hometown: Wauseon, Ohio
Current City: Grand Rapids, Michigan
Gym: 8th Day Gym
Job: Waitress and Student at Grand Valley State University
Some Stats:
Snatch: Meet-70kg, Training-70.3kg
Clean&Jerk: Meet-89kg, Training-90.7kg
Clean: 95.2kg
Jerk: 102 kg
OHS: 95.2kg
Front squat: 97.5kg
Backsquat: 111kg
Deadlift: 147.4kg
Diane 1:52
Fran: 2:37
What's your go-to training music?
Alright lets be really serious I dance while I am training to Enrique Inglesias, Kesha, or Britney Spears. Everyone knows who is in the gym training when they hear the music 😉
What's your favorite cheat meal?
No such thing. I eat whatever I want. However I do get my fair share of Oreos.
What's your favorite non-training thing to do?
I love to skateboard it releases stress and frees my mind. I also love "redneck camping", No campers, no cell phones, no distractions there's just something about being in the middle of nowhere with hotdogs, s'mores, hikes, and being really silly with friends.
Tell us about your athletic history, what sports did you play growing up and how did you end up competing in CrossFit/weightlifting?
When I was younger I did gymnastics for 2 and a half years. I placed 2nd in the state of Ohio for level 6. I did weightlifting in high school to get better for track but ended up picking it up as a side sport. In weightlifting I set the state records for Ohio for clean and jerk and the snatch for 53kg weight class; I qualified for junior nationals but never competed. I also qualified for state track in the 100m hurdles (2007-8th), 300m hurdles (2006-4th), long jump (2006-6th, 2007-4th).
Alyssa's gymnastics background definitely pays off when doing crazy tricks like this!!
Weightlifting was something I did to help better me in track but the coach loved my confidence and he somehow could tell I was unnaturally strong for my size. I laughed at him when he said I needed to compete in weightlifting that is until I started winning competitions. I never lifted weights until I started weightlifting and ended up qualifying for junior nationals my first year. I got into Crossfit because I wanted to have that feeling of competitiveness back something to strive for and focus on. I was getting tired of lifting weights everyday I needed something more and Crossfit was that something.
How did growing up as a farm girl in Ohio help your strength/work ethic?
I grew up on a farm for about 9 years. We had 30 head of cattle and about 10 baby calves, and several chickens for eggs and meat. I had to wake up at 5:30 before school to feed my calf milk and warm water. After school we had to do the same and walk them to prepare them for fair. Also there were plenty of nights I would help my papa bed (lay straw down) the cattle which was fun. They would get so excited by running and jumping around the cage which helped push the straw around. I would help with feeding by carrying buckets of feed which weighed 30lb each from barn to barn. There was also the cleaning of the cages; I had to clean my calves cage by shovels. I would come out in my shorts, belly shirt, and bandana around my nose because the heat would make the smell of urine and crap smell twenty times worse. It would take us 2 hours to get it shoveled and wheelbarrowed out to the garbage area.
My dad always wanted us girls to grow up strong minded and independent, never depend on a man he would say. The farm taught me responsibilities, strength, and plenty of work ethic.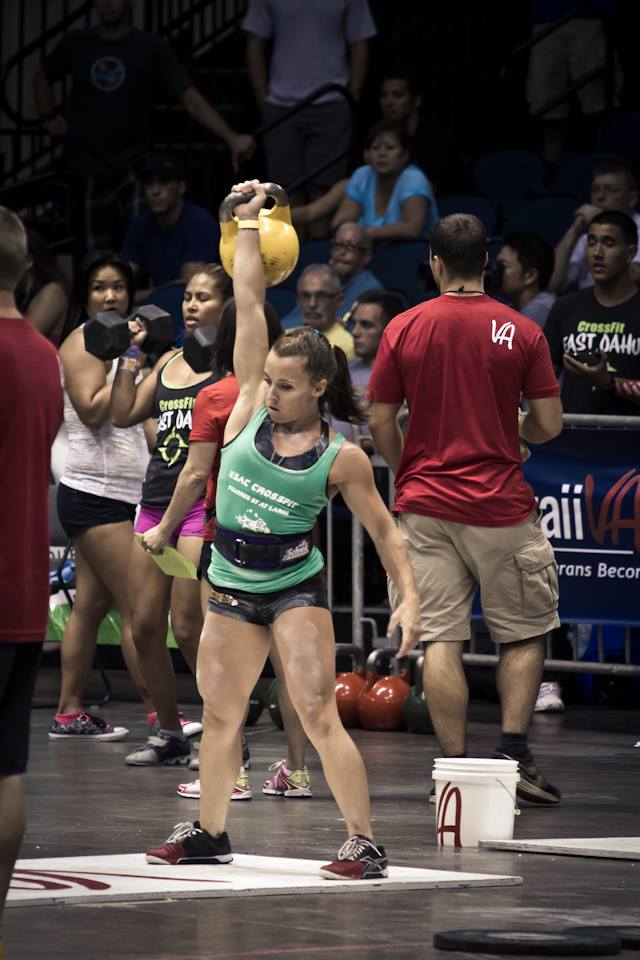 What's your favorite thing about competing in CrossFit and what is the most challenging element for you?
My most favorite thing in CrossFit is the heavy lifting and the people you get to meet! The most challenging elements rowing and squatting heavy weight fast.
Check out Alyssa deadlifting 325#, almost 3x her bodyweight!
I know Oreos are the backbone of your diet, tell us about the rest of it and how you stay so lean?
Genetics my friend. One of my girlfriends tried to eat like me one summer and couldn't do it because she saw herself gaining weight. Everyone's different so do what works for you. I also train 6 days a week from 2-4 hours a day. I don't buy breads or dairy products, but if I happen to go out and order a burger I eat the whole thing like a fatty the bun, cheese, and fries. Yes, I am a little fatty for my size when it comes to eating.
What's your favorite lift/exercise? What are some tips you have for people to improve in it?
My favorite lift is the overhead squat. This is a lift that needs plenty of mobility. When the weight is lifted off your shoulders, you need to remain tight with a good base of support and active shoulders, press on the bar. When you begin to squat down keep tight, press knees out but not forward, stay on your heels, look forward and keep your core & back stabilized. When I come out of the OHS I think squeeze your butt like your going to the bathroom it helps people understand the technique better.