Written by
Team Juggernaut
Iron Woman is a movement to celebrate strong women, to honor competitive female athletes and all that makes them amazing. We want to offer articles, videos, nutrition, events, apparel and more to help educate and empower strong female athletes. Iron Woman understands the unique physical, nutritional, psychological and emotional demands of the competitive female athlete and want to help you improve your performance, while empowering you to Embrace Yours. Embrace your strength, embrace your motivation, embrace your strong legs that can't fit into jeans, your calloused hands, and everything else you love about training hard, competing and being an Iron Woman. #EmbraceYours
CHECK OUT WHAT SOME OF OUR FAVORITE IRON WOMEN HAVE TO SAY ABOUT #EMBRACEYOURS AND TELL US ABOUT YOUR #EMBRACEYOURS ON INSTAGRAM AND TWITTER FOR A CHANCE TO WIN IRON WOMAN APPAREL!!
Also click on any of the girl's names and follow them on Instagram!
Caitlyn Trout, World Record holding Powerlifter and TeamJTS Athlete
Powerlifting may be a strength sport, but it's so much more than that to me. I started out 2.5 years ago at the very bottom. I didn't know anything about form, the lingo, or the training. All I knew was that I wanted to feel good about myself, how I looked, and find a way to blow some steam.  I had no idea how this would change or what was in store. I just knew that I had goals. It taught me that with consistency, work ethic, and some grit, you could defy the odds. I simply learned to love the challenge.  It wasn't until later on that I realized powerlifting had become a part of who I was. I'm more confident in my appearance, am stronger both mentally and physically, and individually I have truly found myself. I love that I can walk out there on the platform wearing my pearl earrings and lipstick and still squat more than most men. I like that I can walk into the gym, hit a new PR, and talk shit back to the boys like the best of them. It's about being comfortable with who you are, loving what you do, and being there for YOURSELF. Stereotypes? I don't believe in them.  As far as I'm concerned, going against the grain IS the norm.
Check out Caitlyn's 391 pound World Record Squat in the 123 pound weight class…
Jevon Hetland, CrossFit Competitor/Certified Athletic Trainer
As females our biggest battle is within our self. If we can learn to love our self From the inside out, I believe a lot of our insecurities and comparisons would go away. As a female Crossfitter there is a lot of pressure to be the best, have the biggest lifts and the fastest times. There's also a huge struggle with body image — "she has a better 6 pack", "She has smaller thighs" "She has better arms" "How is she so lean?" "I'm too big" "I'm too fat". These are all things we as women struggle with– I don't care who you are, how good you are, how many competitions you've won or how many times you've gone to regionals- we all have some sort of insecurity and I am for sure one them. This where as the idea of loving ourselves from the inside out becomes crucial. If we begin to view ourselves as strong, beautiful, healthy women, we no longer have to compare ourselves to each other. We can then stand in a blanket of self worth and empowerment we established and accepted who we are and who we've been created to be. Biggest piece of advice– love yourself. Security starts from within. Definitely easier said than done.
"Girls compete with each other. Women EMPOWER one another." -Unknown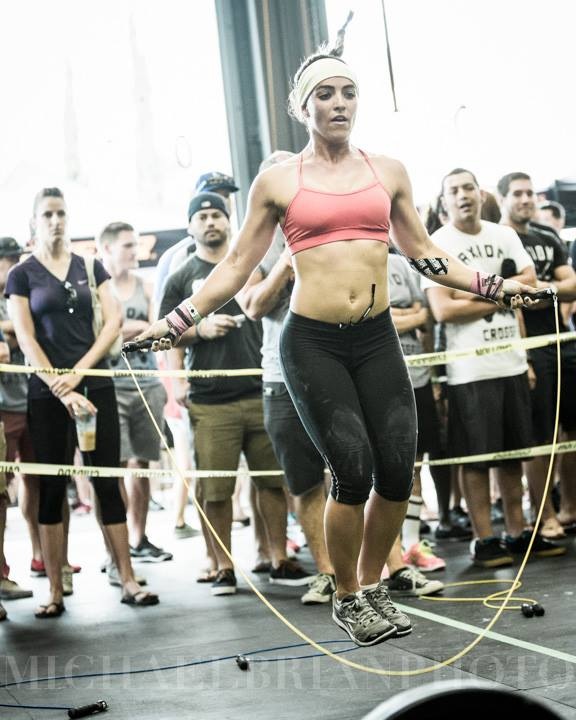 Alyssa Ritchey, CrossFitter, finished 6th in Central East in 2014 CrossFit Open
We are placed in this society where women are often put into a "I don't want muscle because I don't want to look like a man" category.  They loose out on the opportunity to know what being strong feels like.  This is sad to me! I am so incredibly happy in my little muscular petite sexual body!  I weight lift about 6 days a week and follow a pretty healthy eating lifetstyle minus my Oreo addiction, oops.  I stand about 4'11 and weigh about 115lbs, it fluctuates.  I am strong minded when it comes to facing the iron day in and day out.  I constantly and striving to be the best at what I can be, not for others but for the life God blessed for me.  I want to be a role model for woman and show them that strong is sexy.  It gives you a sense of power over society and confidence like you can't imagine.  When I stand in line at the grocery store and I see the typical "hott" celebrity on the magazine, not one ounce of me is wishing I had their body.  I know many women do this, I hear it at work, I see it at school on girls laptops, computer screens, phone screen savers etc.  You may think I am conceded but I am not.  I am a woman that works her booty off (technically "on") everyday in the gym to get as strong as possible.  So I can BE strong not just LOOK strong.  Instead I want to be the best competitor I can be.  Lets be real though. Yes, I put on makeup, blow dry my hair, and pick out the cutest pair of spandex and shirt I can (99% of the time the shirt comes off).  I am not your stereotypical strong woman.  Feeling sexy in the gym and during competition to me is so fun because not only am I incredibly strong but I look da&$ good lifting that weight.  Besides who said you can't be sexy and strong at the same time?  Ladies there is a new generation  coming in and it's pushing the old standards into the past, be prepared.
We, the iron woman, are sick of hearing the word "cardio" and never hearing the word "weights".  If you knew what your body would look like after a short period of time with the iron.  You would become a believer and never look at a treadmill the same way.  The sense of accomplishment after a hard day of weight training would blow your mind.  Yeah you would have to get rid of the flake nails and have sore thighs the next day but gosh you would look banging in sweatpants and trust me, I never thought that was possible.  Your thighs might grow a little but men drool over this!  When you look in the mirror when you are trying on that little black dress, you better get out your phone because you will be wanting to take many selfless.  The weights will change your perspective on life and looks.  I have never loved anything more than getting out of bed and looking forward to hitting the weights or hitting a new personal best in a lift or workout.  When I believe that I am pushing myself to my max and then I hear someone yell at me to push more.  I dig deep for more and every time I find that my body can push a little harder.  Its like a drug, an addiction.  It cannot be explained, or defined.  You have to dig deep, it may hurt….its only the beginning.  The progress over the years will be insane.  The weight might be heavy but tomorrow you will be thanking the iron for another hard day of work.
Every time I sense that my body has my a new improvement I strive for it to improve even more. Failure is never an option. I finish every workout like its my last.  I want people to see me as a warrior, as a fighter, as a person that no matter what the outcome may be. I will have a smile on my face because I know I gave it everything I had.  Fear doesn't shut me down, it wakes me up. I am an Iron Woman filled with desire.
Why I love being strong…
-I have moved 8 different times while living in Boston and I am proud to say that only ONCE did I have to hire movers J  I freaking love that.
-It's not feminine to have big calloused man hands they say.
But I do and I love that too because I can Turkish Get Up 36kg and do weighted pull-ups with these hands.
-Although it's not an everyday occurrence, I love getting dressed up! It can be VERY difficult to find dresses that fit my broad back and shoulders.  Being a strong woman doesn't necessarily fit the shoulder to hip ratio used by traditional designers. I rock a lot of backless tops and dresses and purchase unique pieces to display my strengths
Point being OWN IT, LOVE IT and ROCK THAT ISH!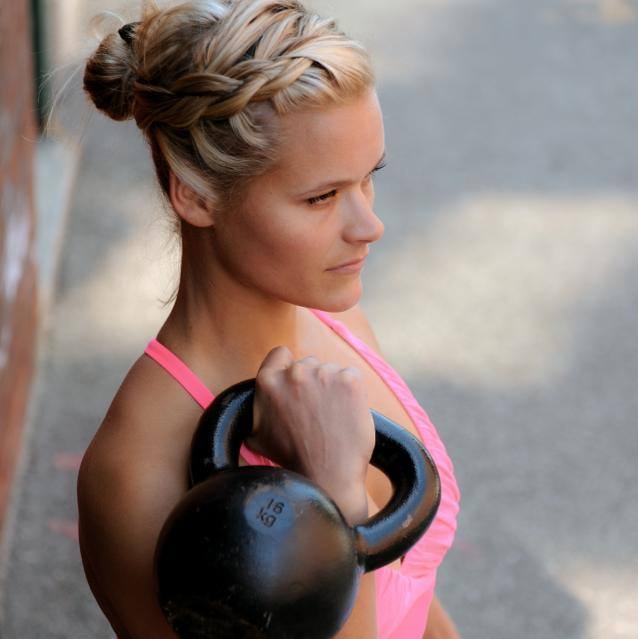 Jenn Null, CrossFit athlete, Former US Premiership Rugby Player, The Commish of HYLETE (Use JUGGERNAUT for 25% off)
Soccer, softball (who can throw a baseball 'like a guy'), rugby, barbells, CrossFit. If you took softball out of there, you'd think I was a guy, right? These are the sports I've been involved with since i was 5. You don't see gymnastics, ballet, cheerleading or other things that little girls 'typically' do (my Mom tried, I never lasted)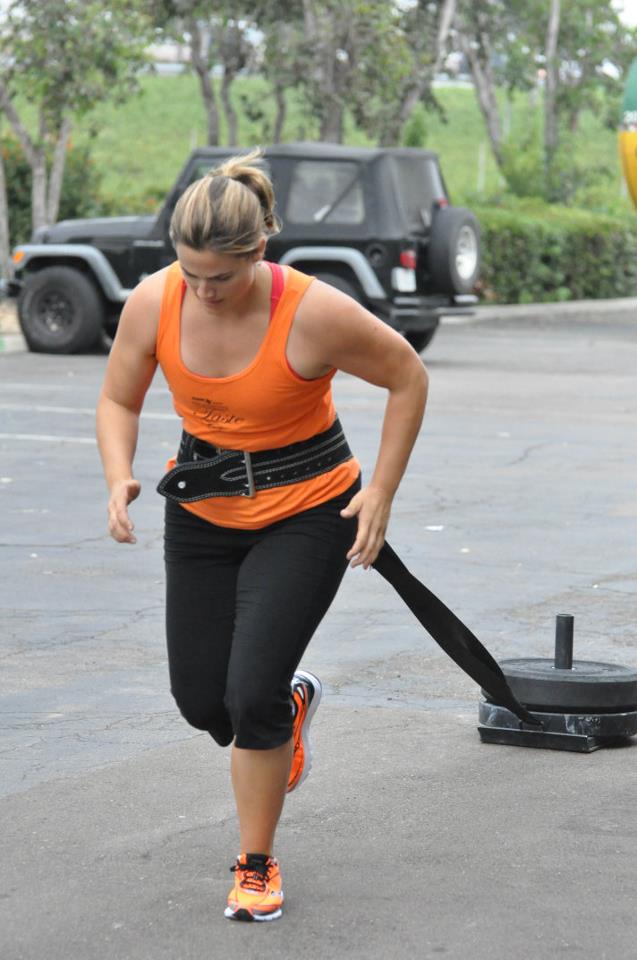 I've always battled the 'fitness' magazine images, the 'lose weight now' gimmicks, the blow-offs from boys, and my Mom telling me I didn't fit into my prom dress right. Since all of my sports are team sports, I'd never been faced with this alone. I've always been surrounded by other strong, athletic woman who had to face the same stereotypes as me. The only difference is that we'd thought that everyone else was weird – and that we were the norm – at least while we were together. Why would you not  want to push themselves to do things outside of the norm? Why would you be satisfied doing the same things over and over again without motivation to improve, or use your body as your machine? Why wouldn't you want to be the strong one, the fit one, the 'bad-ass' one?
As a 30-something woman, I can look back and appreciate the people who allowed me to express my athleticism and not shy away from them because its not 'lady-like.' I see now how much I've benefited from allowing me to follow my passions in sport, as it has gotten me to where I am now. I can link every job I've gotten, every friend I've made and every place I've traveled to back to my rugby career. It is amazing what the support and guidance of a fellow female athlete can offer. The bonds you build throughout the years are invaluable as your flourish into an even stronger and even more beautiful athlete.