Written by
Stacey Schaedler
Now that you have practiced the video I shared with you in Yoga for Athletes Part 1… you are ready for an actual class!
FALL INTO YOGA
Summer is over and there's no better time than now to get to the yoga studio! Crisp weather means it's even easier to get yourself into a warm studio as opposed to dragging yourself into the basement dungeon for some foam rolling and recovery.
HERE'S WHAT YOU NEED
Relatively empty stomach (don't eat a hamburger before class)
Water bottle (or 2 if you sweat a lot)
2 small towels
Tight fitting shirt
Stretchable pants/shorts
Yoga mat (you can rent at most studios for a minimal fee)
Props – blocks, strap, and blanket (supplied by studio)
Yogic mindset
Your breath
GETTING SETUP
Arrive 15 minutes early (you might need to fill out paperwork), use the bathroom and rent a mat if you don't own one. Take time to introduce yourself to the teacher and inform them of any injury history worth noting. FYI: Many instructors will assist certain poses by placing their hands on you. If that makes you uncomfortable, it's totally okay to ask them not to help you.  For some people this idea takes some getting used to and you can always change your mind once you feel more comfortable. Always leave your cell phone in the car or turn it off the second you step into the studio. Disconnecting from technology is more important than ever so be sure to adhere to this one.
Where should you set up shop? Roll out your mat somewhere in the middle you'll be surrounded by people who probably know what they are doing. No matter which way you turn you'll have a visual guide in addition to the teacher's cues.
Grab your props! Props are going to save your a**.  Grab 2 blocks, a blanket, and a strap.  Repeat after me: "Props don't make me weak, they make me smart."
Here's why props rule:
Blocks are an extension of your arms and will help with hamstring openers.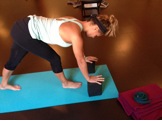 Blankets are knee savers (you only have one set of knees, take care of them!) Fold up your blanket and place beneath your knees for any split stance poses or quad stretches.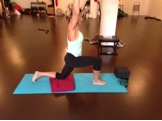 Straps are an extension of your fingers and hands and help with shoulder opening, as well as hip and hamstring work.
USE YOUR OPTIONS
The beauty of yoga is that you always make it your own. If something doesn't feel good to you there will always be regressions and modifications to suit your individual needs.  If you need rest take it!
Child's pose with your knees apart and hips together.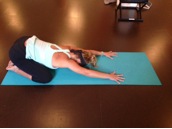 Or
Lie on your back with your knee's knocked together.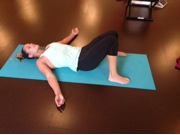 Both of the poses allow the low back to relax and for you to return to your breath.
HAVE A YOGIC MINDSET
Yoga is as hard or as easy as you make it. You are in total control of your experience. Modify as necessary and don't worry about the former gymnast next to you. Yoga is not about competition.
Stay positive. You might be able to do all of the poses you might not. Tip for success? BREATHE. Yoga's actually all about your breath, but I'll let you think it's about your body for now….
Leave expectations at the door and have fun. Laugh at yourself and be willing to make mistakes.
You're ready for yoga!
One last thing … remember not to stare. You can thank me later when you come to grips with everything you've been missing out on, including the abundance of stretchable (most likely lululemon) pants.
 Stacey Schaedler runs her own personal training business within the largest yoga studio in Boston.  Stacey is an ACSM CPT, RKC as well as RYT through the National Yoga Alliance.  Her focus is strength training with a strong emphasis on postural integrity and alignment. This, paired with solid nutritional education for her clients creates the foundation for their success.  Not only do her clients learn to move properly, gain strength and eliminate pain, they learn to start listening to their bodies. As a result of her diverse fitness experience as a collegiate athlete, avid yogi and former professional figure competitor, Stacey is a wealth of knowledge for those looking to attain their ultimate fitness and nutrition goals.
Website, Facebook, YouTube, Twitter