Written by
Blaine Sumner
In Part 1 of this three-part series, I talked about the things I would have told my younger gorilla self about the squat. Part 2 continues on with the bench press. The bench press is certainly the most practiced lift in America, so you might as well be good at it because everyone wants to know how much you bench. There are a few key points I have learned over the years that if I would have known as a younger lifter, would have kept me healthier and stronger.
1) PROTECT YOURSELF BEFORE YOU WRECK YOURSELF
Shoulder and pec injuries are extremely common in bench pressing, but these can be drastically reduced by some technique tips on the bench. In fact, I would say these injuries can be reduced by magnitudes if the proper form is achieved. I tore both shoulder labrums playing college football and can still bench to this day with no pain because of my technique. The most important aspect is packing the shoulder blades. This is achieved by trying to take your shoulder blades and pull them down and back toward the opposite butt pocket. This locks the shoulder joint into the most stable, supported mechanical position and will require minimum rotation through the bench press. Squeezing the shoulder blades down and back also brings the chest up significantly, which reduces the pressing range of motion. The grip width is the second major variable in protecting yourself while bench pressing. Most lifters find that with a more narrow grip, they are able to take some stress off the shoulders and pecs. I haven't found this to be true with myself, so it is something the individual lifter needs to experiment with to find the optimal grip. The last piece of protection is the stroke and where you touch your chest. The lower toward the abdomen the bar touches, generally the less stress on the shoulders and pecs. With a good arch, it minimizes the rotation of the humeral head and protects the shoulders from excessive stretch. However, there is a point of diminishing returns where you will have very little power off the chest. If you drew a 90-degree angle between your side and your arm sticking straight out, ideal upper arm position would be around 45 degrees. Tucking the elbows too much will leave you with very little power from the chest, and too much flare is asking for a shoulder or pec injury.
2) INCREASE YOUR VOLUME
I have seen this phenomenon with a huge number of trainees, lifting partners, teammates, and especially myself. But the bench press, especially for young athletes, develops much slower than the squat or deadlift. I believe this is because kids grow up playing outside, running around, running for sports, and our legs develop faster. We begin firing our calves, hamstrings, quads, etc., at a very young age. Our upper bodies have significantly less work put in them, so we need to make up for it. There seem to be a LOT more prodigious young squatters and deadlifters than  bench pressers. Many world records in the squat and deadlift seem to be set by relatively young lifters, but the bench press seems to be ruled by older lifters. So to speed up this training curve, we need to put a LOT more work into the bench press. Doing the same set/rep/volume scheme on the bench press as you are doing on the squat and deadlift is not enough. It is surprisingly possible to increase your bench volume by two or even three times over a few months. Simply taking your main bench press day and repeating it some other time during the week can do wonders, but find a way to start working the bench press more.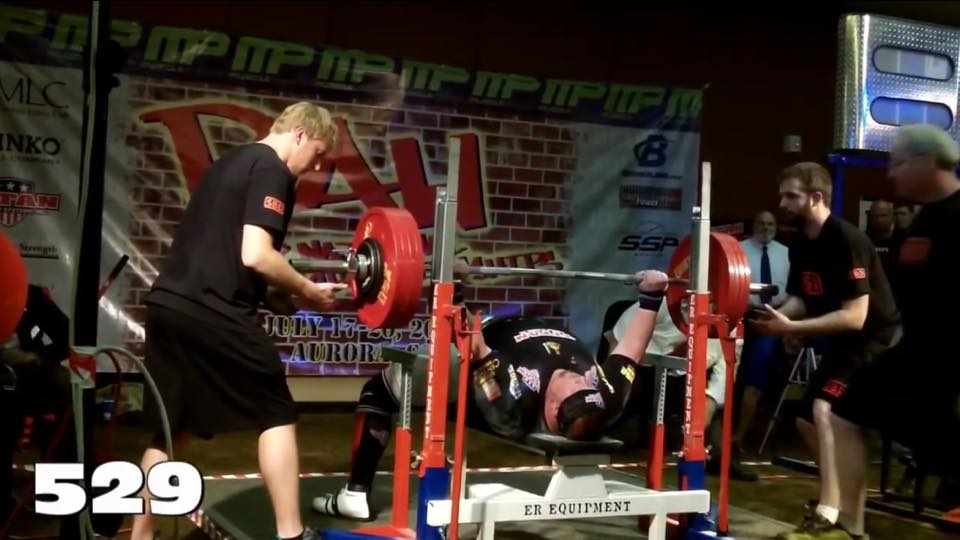 3) LEARN TO PAUSE
This lesson was the hardest for me to learn and set my bench press training back the most. I learned how to bench press in the football weight room where bounced reps, spotter-assisted, butt-coming-up reps were the norm. I bench pressed 500lbs in the football weight room six years before I could do 500 in a competition, all while working my bench press hard during that time. When I did 500 as a sophomore in college, I could only do about 440 to competition standards. I would continue to train with sloppy reps for football, thinking I could go to a meet and hit that number because "I would be psyched for meet day" only to go 1/3 on bench and lifting 50lbs less than I thought I was capable of. It takes a bit of a gut check to start pausing reps in training and performing clean reps because the weight used is so much less than before. But if you want to be a good presser in a meet, it has to be done.
The most commonly performed lift in America is the bench press; so, if you want to impress the ladies and your homies, you should learn to hit a big bench press and stay healthy while doing it. The above tips will help you move your bench press along while staying healthy, so for every pound you put on your bench, you can also add a new phone number to your contact list.
Related Articles
3 Common Mistakes in the Bench Press
Blaine Sumner is a drug-free powerlifter who competes in the IPF and USAPL both raw and single ply. He holds the IPF Raw World Record for Squat (881 no wraps) and Total (2,056) in addition to winning the 2012 IPF Raw World Championship. Sumner played Division II football at the Colorado School of Mines where he started at nose tackle for 4 years in addition to scoring 8 touchdowns as a short yardage fullback. He also set NFL testing records for 225 bench reps (52) and Kirwan Explosive Index (95).
In addition to having a 33" Vertical Jump and 50" box jump at 350 lbs., Sumner was a 4 sport athlete in high school (Football, Wrestling, Lacrosse, Track). He is originally from Colorado and now lives in Oklahoma City where he trains at HATE Barbell and works as a Petroleum Engineer.