Written by
Matt Dawson
My transition from professional strongman to bodybuilding has officially been completed. Over the course of the past two weeks, I have stepped on the bodybuilding stage two times. Both times resulted in victory. This blog will attempt to explain WHY I decided to make the switch.
From the time I can remember, I have always marveled at the physiques of bodybuilders, and feats of superhuman strength. As a kid my favorite baseball players were the players who hit the most home runs (Frank Thomas, Ken Griffey Jr.) My favorite superheros were the ones with super strength and looked like absolute freaks (Juggernaut, Colossus, The Incredible Hulk, etc.) I remember watching "Predator" and "Terminator" as a kid and remember wanting to look exactly like that. I wanted to look like the Incredible Hulk, and Juggernaut and Arnold.
I got involved in strength training in 8th grade for football. I was immediately hooked. In fact, I always enjoyed the off season weight training more than the in-season competition. Although I always loved watching my strength grow, deep down I always wanted to LOOK the part. I was officially a "closet bodybuilder."
I trained through high school and college with the utmost intensity and hunger. My unsurpassed work ethic and obsession with the weight room made my strength numbers increase at a steady and consistent pace. I truly enjoyed getting stronger; but deep down I still wanted to look the part. After graduation from college and a very successful amateur athletic career, I met my eventual strongman coach, Ron Slusarski. Ron showed me the ropes of strongman and I caught on quickly. After only 3 months of strongman specific training I competed in my first show….and was victorious. I became obsessed with strongman and also obsessed with watching the scale increase. I correlated weight gain with strength gain, and eventually I ended up a whopping 317lbs. Seeing pictures of myself made me sick to my stomach. I trained all those years and I was still a big, fat, bloated, strength athlete, that just looked pretty much like any other fat guy walking around…Something needed to be done. I NEEDED to start learning about proper nutrition. I hired my first nutritionist and dropped down to 265, then slowly building back up to about 270.
I went on to win my next 7 amateur strongman contests, concluding with my victory at the 2009 California's Strongest Man contest, in which I turned pro amongst a stacked field. Mike Caruso, Dan Harrison, Andrew Palmer, Ryan Bracewell, Chad Robinson all competed in that show, and all ended up becoming eventual pros (I may be forgetting one or two!) I remember the ASC announcer, Mike Johnson, always introducing me as the lightest athlete in the contest…I was about 270-275 at the show. I out performed everybody at that show, some outweighing me by over 100lbs…after that victory I was truly a believer in the phrase "You don't have to be fat to be strong."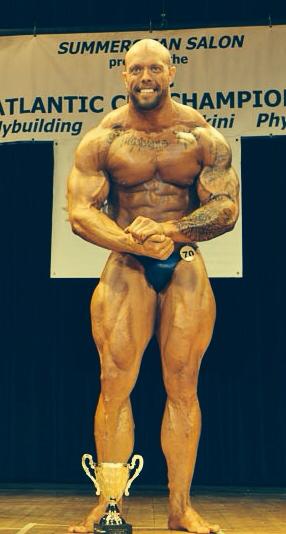 After that victory my weight varied from 270-290. I ended up doing several professional strongman shows and a few raw push pull powerlifting meets and was successful in pulling over 800lbs twice in competition in the 275 weight class. I had staggered success in the professional strongman world with my best placing being 4th at the 2010 Mr. Olympia's Strongest Man. While training and competing in strongman and powerlifting I always had this deep down thought…. "I still don't LOOK the part." The closet bodybuilder inside me was screaming to come out. I mentioned it here and there to my training crew a few times, and they all thought that while I may have potential in bodybuilding, I would be crazy to give up on strongman. I quickly pushed my bodybuilding ambitions to the side and muttered along in my powerlifting and strongman training. My passion for the strongman and raw powerlifting was dwindling away…I tried to cover it up, but my training crew knew something was up. The intensity and passion I once had for the sport was gone.
I did one final raw push-pull powerlifting meet and ended up with a successful 810 deadlift, and a successful 455 bench press in the 275 weight class. After the competition I KNEW that the closet bodybuilder inside me had to come out. I didn't care who liked it, or who disagreed with my decision, or whose feelings I hurt. I knew that I wanted a new experience, a new challenge, and a new passion. It was time to train full time as a bodybuilder.
I told my eventual coach, Brian Hoydic, about my desire to crossover to bodybuilding. I knew of his own personal success, and the success he had with literally hundreds of clients over the course of 15 years or so in the bodybuilding world. We immediately devised a plan of attack, both nutrition and training, and picked out the contest dates of two shows. I was 100% bodybuilder for the first time in my life: and I loved it.
Finally, I knew that eventually I would look the part. The passion I once had for strongman was back stronger than ever. I was obsessed again. I did absolutely everything I could do to make this a success. If my coach told me that I had to eat dog shit, then I would of asked him what breed of dog shit is the best.
My bodyweight rose to 289 at one point in the contest prep. The 289 I was at now, was a completely different 289 from the past. I had veins bulging, people were telling me I looked like a freak of nature, and I loved every second of it.
Over the course of the next 12 weeks, through a meticulous diet, training, and cardio protocol I dropped down to 253 for my first show, then 248 for my second show a week later. I couldn't believe the pictures I saw of myself. I couldn't believe that it was actually me. Finally I looked the part. I looked like the comic book superheros. I looked like the guys in the magazines…in fact I looked better then alot of those guys in the magazines. Again, I loved every second of it.
The bodybuilding journey was the most mentally challenging experience of my life. The challenges of dieting and training are intense, and it takes the utmost discipline and mental toughness to do it successfully. After winning my first two shows, I am officially 100% bodybuilder from this point on. No looking back, and no second thoughts. I look forward to the full time bodybuilding training for this next year and really see where I can go in this sport. I have learned a tremendous amount over this time, and there are ALOT of things that powerlifters and strongmen can learn from bodybuilders, as I will write about in the near future. Thank you to my bodybuilding coach Brian Hoydic for all the help along the way. Im looking forward to our partnership in moving forward in my bodybuilding career!
Stay tuned for more "JUGGERNAUT JACKED!"
Matt Dawson is a professional strongman based in Cleveland, OH. This High School teacher, has earned All-American honors in the shot put before earning his professional status in Strongman. The owner of an 810 pound raw competition deadlift, Matt now has his sights set on the bodybuilding stage
Facebook, YouTube