Written by
Chris DiSanto
In my first article, I talked about work capacity as it related to conditioning.  Sticking with that theme, Part II of this series will be about weight training.  EVERYTHING we do as it relates to weight lifting is geared towards our players being able to produce high amounts of force at high rates of speed (i.e. power production) over time.  With that being said, I want to re-iterate a point I made in my first article and it is this: FOOTBALL IS A SPORT OF WORK CAPACITY.
Before I go any further, let me tell you what I mean when I say work capacity.  If you remember, I spoke about the importance of developing a good, strong cardiovascular system, beginning with the aerobic system (through interval training).  Work capacity is DIRECTLY related to the efficiency of the aerobic system.  With it, your body produces higher levels of Sodium Bicarbonate in the blood.  Sodium Bicarbonate is what buffers (lessens the effects of) the accumulation of lactic acid in the muscles, which allows them to work longer before fatigue.  A more efficient buffering system delays the body's need to work anaerobically (without oxygen), which in turn, delays the Onset of Blood Lactate (OBLA), which is the point of exhaustion.
So how does that affect weight training?  Well, for the purposes of training football players, it leads us to finding ways to increase that work capacity in the weight room as well.  Now we are back at power output, but SUSTAINABLE power output.  Remember, we are interested in our players being strong in the fourth quarter, so our training must be carried out in such a way as to help them sustain that strength & power.
Our off-season is broken down into phases, and we basically have five weeks of what I would call "real, traditional training" before we begin our Organized Team Activity (OTA) period.  At that point, the emphasis of our program shifts to a training camp mentality as far as the amount of weight lifted AND the amount of time we spend in the weight room.
We structure our workouts inside the weight room so that our players are always moving.  We have them perform a major multi-joint movement, followed by what we call a PSE, or Pairing Stretch Exercise, then move them to another major multi-joint movement (Olympic based), and follow it with a different PSE.  For example, we would Bench Press, PSE purple band Pec Stretch, Hang Clean, and PSE – Lat Stretch.  That would be one round.  Depending where we were in the off-season program, we would perform anywhere from 4-6 rounds.  This is pretty traditional, as far as having our players on the platform, performing traditional movements (i.e. Back squat, bench press, incline press cleans, snatches & complexes).
Where the work capacity comes in, is AFTER they finish this portion of the workout.  We built what we call HIRT (High Intensity Resistance Training) Circuits.  Basically, what we do is we take what would normally be auxiliary weight training exercises, and pair them with some type of cardiovascular exercise.  The idea is that you fatigue all of your primary muscle fibers inside the weight room, and then force them to recruit the secondary and tertiary fibers. This creates an environment where they rely on their cardiovascular system to get them through the HIRT Circuit.  We work for 20 seconds and rest for 40 seconds and go through 12 stations.  I will provide an example of what a week would look like at the conclusion of this article.
There is one point that should not be lost in this discussion, and that is, with all this talk of work capacity and how we train, we are by no means trying to re-invent the wheel.  As a strength coach, one thing you have to be careful of is trying to be too "cute" or "fancy" with your programming.  At the end of the day, consistent weight training, coupled with sound nutrition habits, and proper sleep and recovery practices will produce favorable results.
Our method of training works for us, and is yielding great results as far as our player's ability to tolerate large amounts of work for extended periods of time.  We aren't training weight lifters or creating Olympic lifters, we are training football players, and at the end of the day, the most important thing is for is to use sound programming that keeps our players healthy, in shape, and most importantly ON THE FIELD.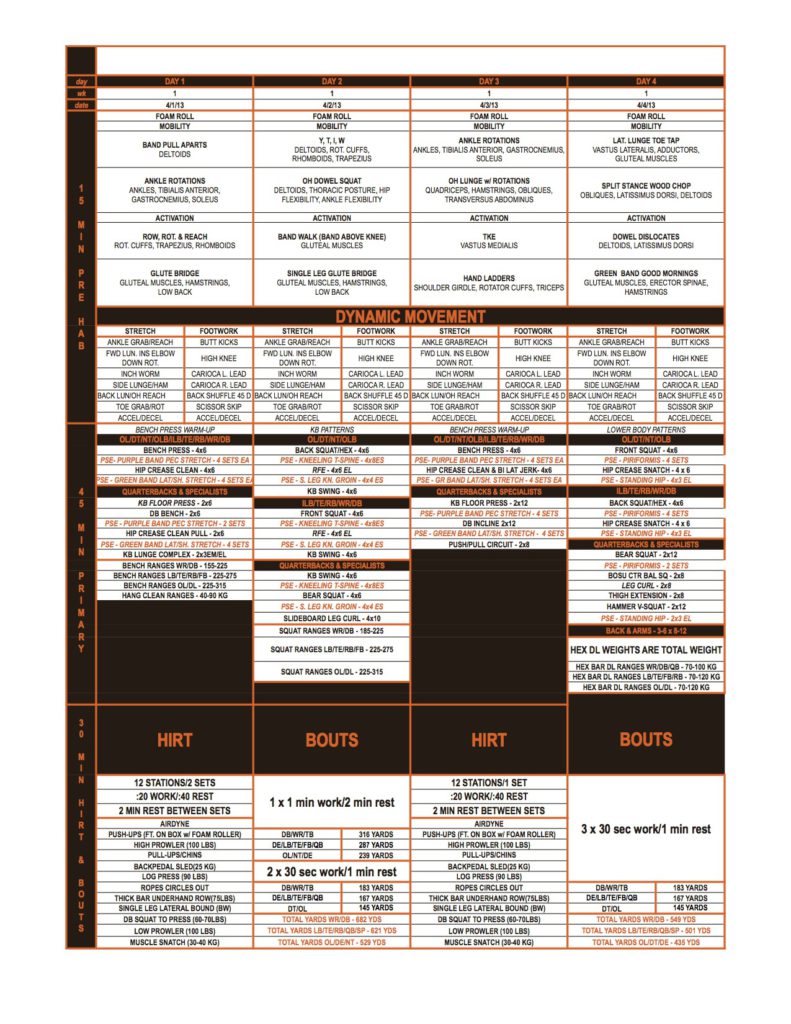 Please feel free to contact me with questions or comments at [email protected].
DiSanto spent the 2012 season in the same position at the University of California. While at Cal, DiSanto served as a liaison between the team nutritionist the players and the coaching staff. 
Prior to his time with the Golden Bears, DiSanto served four seasons (2008-11) as assistant strength and conditioning coach with the Oakland Raiders. With the Raiders, he was responsible for the core development training of the team's specialists including placekicker Sebastian Janikowski, punter Shane Lechler and long snapper Jon Condo. Under DiSanto's assistance, Lechler was named to his seventh Pro Bowl in 2011, while Janikowski was an All-Pro selection and was also named to his first Pro Bowl in 2011. During his time in Oakland, DiSanto worked with Browns strength and conditioning coach Brad Roll, who served in the same capacity with the Raiders.
After graduating from West Chester (Pa.) University in 2000, DiSanto served as a volunteer strength and conditioning coach for the Philadelphia Eagles for two seasons (2000-01), while also serving in the same role with the Philadelphia Kixx (Major Indoor Soccer League), the Philadelphia Wings (National Lacrosse League) and at his alma mater. In 2005, DiSanto served as the offensive line and assistant strength and conditioning coach for the University of Pikesville. DiSanto spent 2007 as a strength and conditioning intern with the Minnesota Vikings.
In 2003, DiSanto played four years with multiple teams in the Arena Football League and the Arena Football League 2 as an offensive and defensive lineman. During the 2006 season, DiSanto was with the Spokane Shock of the Arena Football League 2.
A native of Holland, Pa., DiSanto has been a featured speaker for the Glazier Clinics presenting on topics such as nutrition, training and recovery. He is a certified strength and conditioning specialist (CSCS) through the National Strength and Conditioning Association