Written by
Team Juggernaut
Shot putter, powerlifting, strongman and now bodybuilder, Matt Dawson is conquering strength sports one at a time. This heavyweight pro strongman has a 400+ pound overhead press, 800+ pound deadlift and a physique to match. Meet the newest member of Team Juggernaut.
Matt Dawson is a professional strongman based in Cleveland, OH. This High School teacher, has earned All-American honors in the shot put before earning his professional status in Strongman. The owner of an 810 pound raw competition deadlift, Matt now has his sights set on the bodybuilding stage
Facebook, YouTube
Name: Matthew J. Dawson
Hometown: Cleveland, OH
Current City: Cleveland, OH
Gym: Titans Gym  (Mentor OH)
Height/Weight: 6'3" 280lbs
Occupation: Teacher, Strength and Conditioning Coach,
PRs:415lbs competition axle clean and press, 810 raw competition deadlift (275 class), 400lb log press.
Check out Matt pulling 800 pounds raw!
Gives us some insight to your athletic background?
All State middle linebacker in high school, NCAA All-American Shot Putter in college, undefeated amateur strongman career (7-0), former NAS national record holder in the axle clean and press.
What tips do you have for someone trying to increase their overhead strength?
Learn to use your legs!  Overhead pressing has emerged to become one of my strongest events, although my strict shoulder pressing may lag behind my competition.  Learning and mastering the jerk technique can add, in my case, over 100lbs to your over head pressing.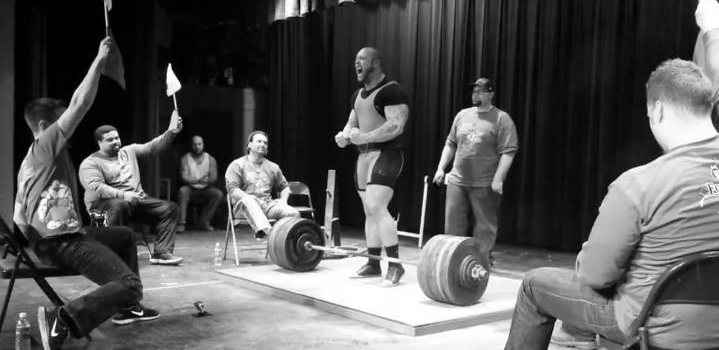 What are some tips you have for someone looking to pack on muscle and stay lean?
Diet is 80% of the battle.  I'm a big believer in carbohydrate cycling.  I was inspired to try this eating style about a year and a half ago, after reading several articles written by Matt Kroczaleski and Shelby Starnes.  My body has totally transformed.  Although my bodyweight has remained approximately the same, my body composition has changed remarkably.
What has been the hardest lift for you to build? How have you broken through plateaus there?
The deadlift, which has now emerged as an enormous strength for me.  I remember maxing out at 600lbs at 21 years of age.  With a background in track and field, and Olympic style lifts, I continued to incorporate cleans, snatches, and plyometrics into my dynamic lower body training days.  This, I feel, has been the biggest help in achieving a world class deadlift.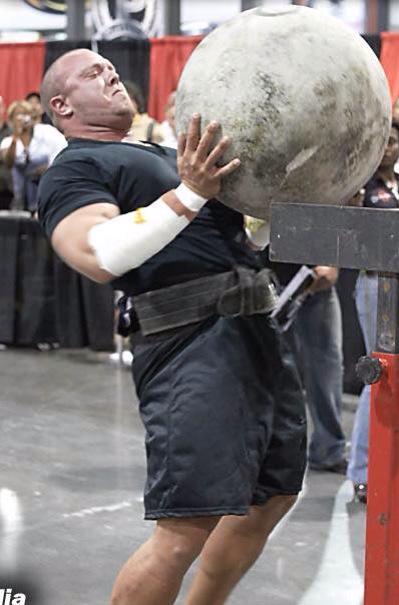 What do you anticipate being the biggest challenges in making the transition from strongman to bodybuilding?
Managing my time to do all the things I need to do.  For the entirety of my lifting career (starting in 8th grade), I have always done a 3 or 4 day training split.  I have now switched to a 6 day training split, hitting several muscle groups twice per week.  In addition, nutrition now consumes a much larger majority of my time.  Food preparation has taken on an entire new level, and I am still learning how to make the most of my time, which includes spending several hours on Sunday planning and preparing meals for the week.  Although I have been fairly strict on my eating habits for years, this brings it to a whole new level.