Written by
Team Juggernaut
Jamie Hagiya is a competitive CrossFit athlete and Co-owner and Coach at Torrance CrossFit, in Torrance California.  A former collegiate and professional basketball player at the University of Southern California, she helped lead her team to two NCAA appearances and finished her career 4th all-time in assists and 2nd all-time in 3-point field goals made.  After graduating from USC in 2007 with a degree in Communication, she played professionally in Greece and Spain.  However, while preparing for a WNBA tryout in 2011 she was introduced to CrossFit.  Since then, Jamie has won several local competitions and placed 5th at the 2013 CrossFit Games Regionals in the very competitive Southern California region.  She's looking to improve her placing this year and aspires to make the CrossFit Games one day. She has a passion for competing but also helping and coaching others which she does daily at her gym, as well as with kids for basketball through her own camps, clinics, and personal training through Hagiya Basketball.
Website
,
Facebook
Name: Jamie Hagiya
Age: 29
Height/Weight: 5'3″/150
Occupation: Torrance CrossFit Co-owner and Coach.  Hagiya Basketball (basketball camps, clinics and personal training for kids)
PRs: Squat– 315lbs
Clean and Jerk– 233lbs
Deadlift– 330lbs (not really sure haven't tested for a while)
Snatch– 178lbs
Fran– 2:58
Fight Gone Bad– 419
Check out Jamie snatching 178! She has also Clean & Jerked 233, Front Squatted 265 and Squatted 315. Not bad for a CrossFitter…
Tell us about your athletic background and how you got to where you are now…
During my childhood, I grew up playing a variety of sports (basketball, softball, golf, tennis, ice skating, gymnastics, swimming).  However, basketball was always my main sport since I started playing in Japanese American leagues at the age of 4.  From there I played on multiple teams and leagues and joined a competitive club team in middle school and continued through high school.  In high school I also played softball, golf and track.  I received a full athletic scholarship to USC and played on the women's basketball team from 2003-2007.  Played professionally overseas for a couple years following and then found CrossFit in 2011. From there haven't looked back, opened my own gym and have been training and learning this sport of CrossFit ever since.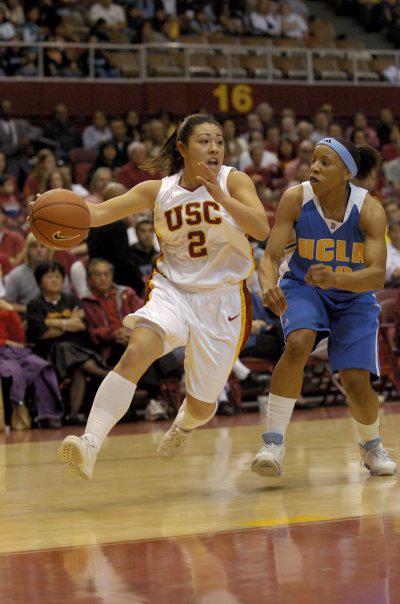 What is your favorite thing about competing in CrossFit? What is the most challenging?
My whole life I've always been told, "I'm too short, I'm not good enough, I'll never play Division I basketball" that along with being Asian American (since there are so few playing at the collegiate and professional level) it was always a battle to achieve my dreams in basketball.  I love that in CrossFit, none of that matters. I'm also just super competitive by nature so love the rush of the clock and rounds and competing against others.
The most challenging for me is the gymnastics.  As a basketball player we never trained pull ups or any type of gymnastics movements so that's definitely the hardest part for me.
How do you balance coaching, gym ownership and training?
We've been open a little less than a year so it's been a process trying to balance coaching and training.  I'm fortunate enough to co-own the gym with my sister, Lexie, and good friend, Dan Uyemura, so they take care of a lot (and by a lot I mean all) of the business side of things.  So that allows me to focus on just coaching and training.
What advice do you have for athletes beginning their journey into competitive CrossFit?
I'd say be open and try to learn as much as possible.  Because in CrossFit we have to be good at everything and not great at just one thing, there's so much to learn and practice and perfect.  The more knowledge and experience you have (with olympic lifting, gymnastics, power lifting, strong man, running, swimming, etc.) the better you'll be.  But don't get frustrated because it takes time and a lot of hard work, dedication and practice. Also everything is everything so training, diet/nutrition, sleeping, muscle fuel and recovery all matter.
Also, if they're really serious, I'd say hire a coach.  I just hired one about a month ago and it's been so nice and much easier not having to worry about my programming, where I'm at, what I need to work on, where I need to be, how I need to get there.  It's been extremely helpful and let's me focus on just training and giving my best everyday.
What do people have to look forward to with you as part of Team Juggernaut?
I think people can look forward to following my CrossFit journey and me giving 100% in everything I do towards that.  I want to make the Games one day to prove mostly to myself that anything is possible.  I also know that my time as a competitive CrossFit athlete will not last forever, so I do want to help as many people as I can follow and achieve their dreams.