Written by
Caitlyn Trout
This weekend was probably the craziest, most exciting meet weekend that I've ever had thus far in my powerlifting career. The RUM 7 was featured in Port St. Lucie, FL this weekend where I competed at 123lbs in the Raw with wraps division. I flew in on friday morning and had to finish cutting weight using my usual method (water logging and diet modification) and then weighed in on Saturday morning at 121lbs.  Saturday, instead of watching the raw without wraps division compete I chose to stay in my hotel to rehydrate , refeed, and keep off of my feet as much as possible. I had been sleeping like crap during the weight cut the week before so I ended up going to bed at 9pm that night and sleeping around 8 hours to prepare for the competition on Sunday.
Sunday I wouldn't compete until the evening because the men's heavyweight division competed in the morning. I came early to watch my Iron Mafia teammate Mark Miller compete and to also get a feel for what the judging would be like. I was very impressed with how things were ran. Everything went smoothly and the judging, while strict, was completely fair and legitimate as it should be in any meet. I also ran into a lot of other great lifters and individuals there while watching and it was great to talk to them or watch them lift. Watching other people compete always gets me really motivated and by the time I was ready to warm up, I just wanted to get out there and lift my face off.
I started warming up on squats, no belt or knee sleeves – barx5 , 145×3, 195×1, 235×1, add knee sleeves and belt 285×1, add light knee wrap 310×1, tight knee wrap 335×1 .   Warm up's felt good and I knew I was ready for my opener which was 352lbs.  I lifted to Young Buck- Get Buck the entire meet because it get's me real pumped up and I like to feel kind of thug when I lift haha. I went up for the 352 and everything just kind of clicked. I smoked it. The next attempt was to break my world record of 370lbs with 374lbs. I also hit it without any problems. Now with this 3rd attempt I knew it was going to be a challenge but I had no idea that I was going to have some physical issues when I got set up for it. As I descended into the hole, my right hip gave out just for a split second, causing my knee to cave in. Luckily, I was able to catch it and keep going down but my bar position was all F'd up at this point and I was out of my normal squat groove. I had leaned forward and it pretty much felt like I was doing a goodmorning  all while most of the weight shifted on my toes . Somehow I willed myself to keep pushing. In my head I was screaming NOOOOOO! By the no , I meant that I'm not giving up on this, NO NO NOOOO!  I pushed on and I received the white lights. 391lbs at 123bw…. my head is still spinning. I watched the video and I realize how funky it looked but hey, max squats aren't rarely 100% perfect so I'm not complaining about how ugly or weird it looked because I'm pretty proud to have come out of that mentally and physically standing tall (or at 5'1 anyway haha ) .
Bench was next and at this point my arms are even exhausted but I still ended up hitting a 5lb bench pr. It wasn't what I wanted but progress is progress so I'm happy with it for today. I warmed up with the bar 45×10 , 95×5 , 115×2, 135×1, 150×1 . My first attempt was 159lbs which was a breeze . The second attempt was 170lbs which I got one red light and 2 whites on because the head judge said I had a slight miseven lockout, but the rep was easy. I missed my third attempt of 176lbs . The bar was moving, I stalled for a second and then it started moving again but they took it because the head judge said my left arm lowered a bit before I continued the progression of the lift.  Bench is something I always struggle with so a pr is still good for me. The way I see it is that this will leave room for more progress during my next competition. Optimism is always key.
Last was deadlift. I only needed to get my opener to break my all-time world record for total by 4 lbs.  I began warming up with 135×5 , 225×2, 275×2, 315×1, 345×1.  I opened with 363lbs and completed the lift without a problem. My second attempt was 385lbs which was my previous meet pr. It ended up being a grinder at the top but I completed a clean lift. At this point my glutes and hamstrings were fried. I have pulled more in the gym but with the 3rd squat being so strenuous and taking all that I had, a pr on deadlift was just not in the cards for the day. I missed my 3rd attempt of 391lbs . I was able to get it up to my knees but couldn't push my hips through to lock it out. I was kind of upset about it but I had broken the all-time world record for total by 26lbs at this point so I got over it pretty quickly.
Overall I completed at 319lb squat , 170lb bench, and 385lb deadlift with an overall total of 946lbs. I re-broke both of my world records for squat with wraps  and overall total. I also won 1st place for the light weight super class which was something I hadn't even expected to do but was an amazing bonus! I went 7 for 9 out of all of my lifts so it was not a perfect day but to me it WAS perfect for now. I have a lot to look forward to and feel like I am just now really getting started.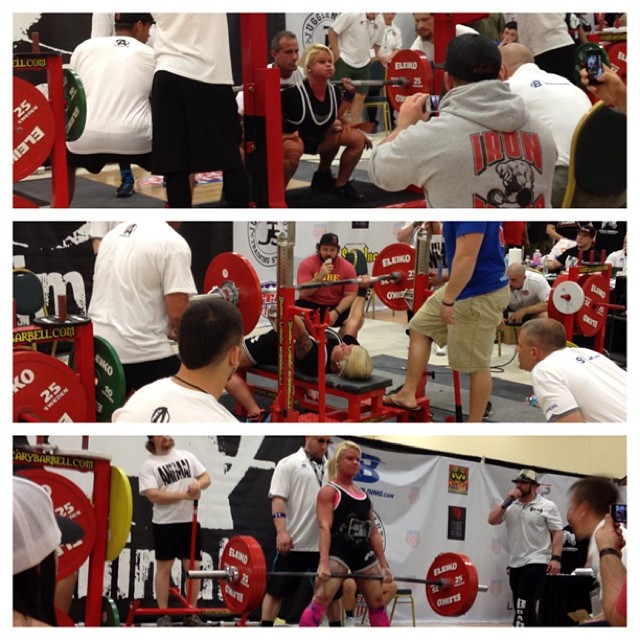 What do I have planned next ? Well because I am graduating this May from graduate school and figure out those life issues,  I have decided to train for a while before starting a specific training cycle for probably around September or late August. Until then, I will focus on getting my bench up some more ( more power off of my chest) , deadlifting 400lbs (having a stronger lockout) , and I'd love to squat over 400lbs (without doing the stanky leg next time)  

 . I have one ultimate goal left to hit for the 123lb weight class which is to total 1000lbs. Seems crazy to you guys probably but I believe I can do it if I can get my bench up and fix my deadlift lockout weaknesses. I know that I have the drive and mental toughness to do it , it's just a matter of time. After that…maybe I'll give the 132′s a try!
I would like to thank my Iron Mafia Teammates for coming out to help me and my other three teammates who competed. I was lucky to have them there to help handle me at the meet and support me or to compete along with me. I couldn't ask for better teammates than the ones I have at Iron Mafia. I want to thank my coach Corey Hayes for setting up my programming for this meet and helping me prepare for it. I want to thank my sponsor Chad Smith for live streaming the meet for everyone all weekend and for supporting me there. I also want to thank my other sponsors PowerBelly Gear who provided me with both my misdemeanor knee wraps and wrist wraps and  Unbreakable Gear for supporting me and providing me with some great apparel. Thanks to all of the sponsors that came out to RUM7 to support all of the lifters, you guys made it possible to have some type of winnings for the super classes and made things exciting! I want to thank my parents for making sure I had what I needed to be able to come out to the meet and compete, they sacrifice a lot for me so I can do what I do best! I also received a lot of  good luck and congrats messages on facebook and instagram from my friends, family, and supporters and I just want to thank you guys too for thinking of me and being so awesome because it means a lot to me!
I start my journey again to reaching all of my new goals this Sunday. I'm pretty sore from the meet so taking the week off was a must. I'm also happy to say that I can eat whatever the heck I want for this week before returning to a more structured diet on Sunday and getting back on the grind. Once again, thank you everyone for reading my logs, posts, and watching my videos. Keep an eye out for more!
Here is the meet video I made. Some of it is kind of blurry because it was taken on an iphone from a distance so I apologize.