Written by
ryan burgess
When it comes to training for speed, coaches and athletes alike focus their time and energy on improving many different factors.  Acceleration, top end speed, stride length, stride frequency, anaerobic work, aerobic work, maximum effort runs, tempo runs, stretching, calisthenics… the list can go on and on.  But what about simply getting stronger?  Can lifting more weight make you faster?  You're damn right.
First, let's define strength.  In the classic text "Supertraining", Dr. Yuri Verkhoshansky and co-authour Mel Siff broadly define strength as the ability of a given muscle or group of muscles to generate a muscular force under specific conditions.  Thus, maximal strength is the ability of a particular group of muscles to produce a maximal voluntary contraction in response to optimal motivation against an external load.  Stay with me on this one.  When sprinting, the external load you're working against is yourself; more specifically, it's the interplay between your mass, gravity, and the surface you are running on.  At the most simplified level, if you raise your body's strength output in comparison to your body mass (the external load), you will be faster.
How you go about developing strength is going to depend on a few factors.  First, training age needs to be considered.  The younger you are and/or the less overall time you've been training, the less complicated it will be to improve your speed.  In the beginning, CORRECTLY practicing the skill of running will improve the coordinative aspects of the task, and bodyweight strength exercises/calisthenics will develop inter and intra-muscular coordination as well as relative strength levels.  This is why so many of the fancy toys you see advertised by "speed coaches" are bullshit- if a kid has never even learned how to run, attaching him to a parachute and telling him to "go run fast" is bass ackwards.  It's introducing algebra before being taught arithmetic… but I digress.  Once an athlete has learned the basic skills associated with running and developed the coordination to do so, it's time to start advancing their resistance training protocol.  It should be stating the obvious that the musculature of the lower body is pretty important in sprinting; therefore if we get the lower body (calves, quads, hamstrings, glutes, and all the associated stabilizers around the ankle, knee, and hip joint) stronger, we will get faster.  The best means to accomplish this task are full range of motion compound lifts, and for sprinting the squat reigns supreme.  More specifically, though, squatting past parallel reigns supreme.  If you're not squatting past parallel you are not getting adequate stress to the muscles of the posterior chain, specifically the hamstrings and glutes, so you will not be receiving the full benefit of the exercise.  Initially just squatting through full ROM with some form of external resistance will suffice, so dumbbell/kettlebell/medicine ball front and goblet squats will do just fine for younger and less trained individuals, but you will eventually want to progress to exercises that allow for heavier loading.  As for athletes that have issues that may rule out back squatting, front squats are a viable alternative, and I'm becoming more of a fan of sumo deadlifting for speed development as well.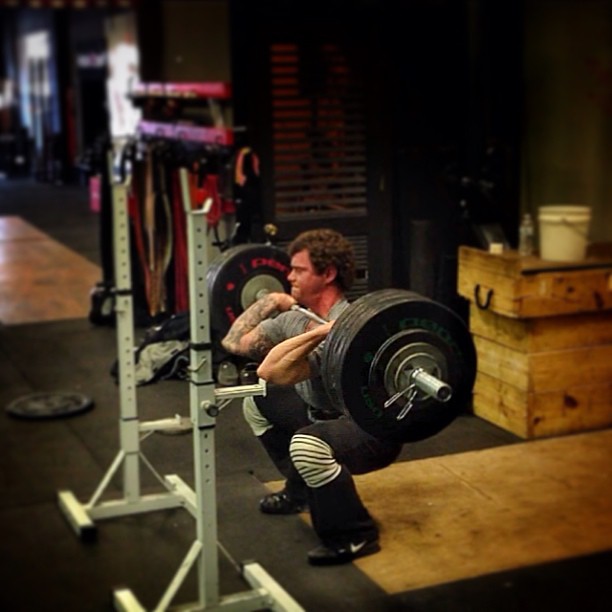 With means established, we now need to address intensity and volume.  From a purely technical standpoint, if strength development is the goal, intensity should be at or above 70% of an athlete's 1 repetition maximum, with rep ranges from 1 to 6 reps and volume totaling anywhere from 1 to 10 working sets.  Once again, however, the less developed the athlete the less you need to train at or near maximum to see progress.  I firmly believe that people don't get as much out of their sub-maximal training as they potentially could; this is a mistake that I'm willing to admit I've made both as an athlete and as a coach, but it's one I've definitely learned from.  When an athlete has shown that they're ready to lift, mastering their chosen lowerbody lift at a submaximal level will continue to reap the same rewards as the bodyweight lifting and calisthenics from earlier in their development, because they're continuing to improve their inter and intra-muscular coordination, and they're also now learning how to produce force beyond their own bodymass.  Don't worry if you can't establish a true one rep max for your athletes; have them work up to a challenging but clean set of 8, then back down 5-10% of that weight and do a few more sets.  Do this for 2 to 3 weeks, trying to work up to a slightly heavier load each week.  Then repeat the process working up to heavy sets of 5, and finally (depending on the preparedness of the athlete) repeat the process with heavy sets of 3.  This will give you a very good indicator of where their absolute strength would be if tested without the risk, and, if desired, it gives you enough information to set a pure percentage based program going forward.  This is also a great time in an athlete's development to expose them to a wide variety of set and rep schemes, so be sure to expose them to some higher rep sets as well; their body will absolutely feed off of the multitude of stimuli.
At some point, though, you will need to begin to specify your training needs.  We can't just lift and run ad infinitum and expect to get both stronger and faster.  At this point the focus shifts entirely to stress.  Everyone's familiar with lifestyle stress- work, school, family, friends, etc.  But practice and other competitive demands are stress, and so is training.  All of this adds up, and the human organism can only handle so much.  Charlie Francis, in my opinion the greatest speed coach in modern history, used the analogy of a cup: your body is the cup, stress is the water, and you can't overfill your cup without running into problems.  As you continue to develop you're going to have to put more effort into your running, more intensity into lifting, and a greater focus into the technical and tactical components of your sport.  This is the brutal nature of competitive athletics- the further you go, the more challenging it gets, so how you and your coach manage the demands of your competing stressors is one of the most crucial aspects of your continued development.  This is also why you need to specify your training needs.  The number 1 priority should eventually become improving the requisite technical skills associated with your sport, and 2A and 2B should be continuing to maximize your speed and strength.  This is where things really begin to differentiate from sport to sport and athlete to athlete.  One athlete may need to focus more of his energy into his strength training, while his teammate may need to focus more of his energy into his speed work.  No matter how you and your coach end up prioritizing, you don't want your lower ranked needs interfering with your top priorities.  If speed development is still the primary goal, this is finally where lifting would take a back seat to sprinting.  Just because it's taking a back seat, however, doesn't mean the complete elimination of it.  Keep the intensity high and the volume low; my general rule at this point is focusing on 3 to 5 sets of 3 to 5 reps.  You also need to be smart with new PR's, because big efforts require big recoveries.  In Coach Francis' words, "weights follow speed", so a big run justifies a back down or elimination of the subsequent lift; after all, that's when the body will be most vulnerable to injury, so why risk it.
The final point that needs to be made with this article is not to confuse your level of success in your chosen sport with your level of preparedness.  The state of athletic preparedness is so poor across this country that more often then not the genetic outliers are the ones who advance on to the next level, with or without truly maximizing their baseline (strength, speed, and power) potential.  You'd be shocked at the number of NFL athletes I've witnessed that have trouble with even the most basic of tasks when they first begin training.  Being in the business of truly trying to see how far the human body can go, we have a generation of high level athletes with foundations built entirely on sand, limiting what they can potentially achieve, and frankly it pisses me off.  Shift that paradigm right now.  Take a step or two back in your training and hammer something that you thought was beneath you.  I mean beat it to death, to the point where there isn't even a question that you've mastered that part of your game.  While there are times in an athlete's life that his or her training is time sensitive and you have to force the needle forward, make the decision right now that your goal isn't even being perfect, it's being 1% better today than you were yesterday, and repeat that refrain every… damn… day.
Coach Ryan Burgess is a physical preparation coach in San Diego, CA who specializes in working with football athletes.  A former collegiate football player himself, Coach Burgess has trained hundreds of youth, high school, and collegiate football players as well as dozens of NFL athletes.  In addition to coaching, in 2011 he began competing as an amateur strongman and recently started competing in powerlifting.  He can be contacted through his website at www.CoachBurgess.com.