Written by
Stacey Schaedler
Boy does time fly! Here we are in December and the holiday season is upon us.
With endless commitments to family and friends and yearend work piling up, there seem to be too many excuses to devour rich food and too little time to get training done.
I know that there are all types of people out there. The people who will NOT budge from their "clean eating" way of life, and on the opposite end of the spectrum, those who go balls to the wall the week of Halloween until January 2nd.  In this post and with all my clients, I will discourage being on either of these extreme ends.  Whether you are flying, driving or staying close to home this year, here are 10 great tips to make your holidays feel less like a holiDAZE…
1. PACK GOODIES
Stash healthy snacks in your luggage that you can access fast when cravings or hunger pangs strike. Think: Justin's almond butter packets, apples, individual protein powders, Steve's Paleo kits, snack sized nut packets, Quest bars, and Kind Bars.
2. HYDRATE
Personally I always spend the most money on trash magazines and 2 large bottles of water when traveling. Flying dehydrates you and thirst gets mistaken for hunger, so drink up!
3. FIND YOUR BEST SNACK OPTION
Walk the terminal for the healthiest option. Sure yogurt is a good choice, and blueberry Greek yogurt is better, but that unsweetened Greek yogurt you end up finding in terminal K is your best option! That extra time up walking around didn't hurt either!
4. FRESH BREATH
Now is the time to chew some minty fresh gum.  Should hunger or boredom strike, pop in a piece of Dentyne Ice!  Your taste buds will be distracted and your ears won't pop on the plane!
5. SLEEP
Take naps whenever you can. Try to get a minimum of 7 hours of sleep each night. These hectic schedules, long road trips and pullout couches can leave you sleep-deprived. Just like thirst, lack of sleep will leave you feeling hungrier than you actually are!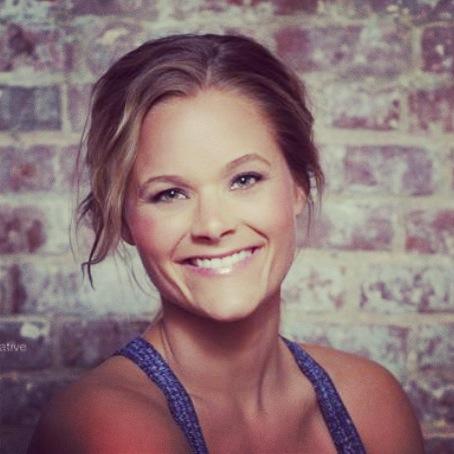 6. BRING YOUR BALLS
It may sound strange (and look even stranger) but I ALWAYS bring my lacrosse balls whenever I travel. Whether it's in the car or before a long flight, self-myofascial release eases the tension created from sitting and being jammed into tight spaces. Rolling out your glutes will wake you up better than a cup of Turkish coffee!
7. PROTEINS + VEGGIES FTW
I try to steer clear of processed carbs when I am on the road. When traveling, I stick to protein and fat choices. These will satiate me for longer and keep my blood sugar stable. Think Brazilian BBQ or Asian Style dining. Tell your waiter that you are allergic to wheat and milk. There are always meat and fish options with a double side of veggies!  Stack that plate high with non-starchy veggies…spinach and broccoli are great options!
Intermittent fasting is also a great option for those familiar with it.  With this option you can save your biggest meal until the end of the day. Because of hormonal differences this recommendation is targeted more towards the male population.
Due to the high prevalence of food intolerances and allergies throughout the last decade, the general population has become more aware of the existence of food sensitivities. Give your hosts a heads up. Let them know that you have some restrictions and that you would love to contribute to the meal by bringing a few dishes of your own.
8. PICK YOUR POISON
If you are going to be drinking alcohol think about only having just a bite or two of your favorite dessert. Indulging heavily in both drinks and desserts at the same time this holiday season will surely leave your pants a bit tighter.
9. MOVE
Let's face it, when traveling you aren't always going to be able to get to a gym and smash weights. In a perfect world when traveling, I run through a yoga flow and quick total body kettlebell circuit. For YOU it could be some mobility work and hill sprints, hitting up a local Crossfit for a WOD or a long walk with the pooch after a family meal. Whatever works for you is fine… just USE YOUR BODY AND MOVE.  This does the body and mind good and makes you more enjoyable to be around.
10. PROGRESS NOT PERFECTION
Don't sweat the small stuff. Live a little. Step outside of your carry-on cooler. Don't eat cold fish jelly just so you can see your abs and don't turn into the HOLIDAY SLOTH version of yourself either! You worked hard in 2013; let's not throw it away during the holidays. Enjoy some quality time with quality people, eating and drinking things that make you happy. Isn't this what life is all about?
Stacey Schaedler runs her own personal training business within the largest yoga studio in Boston.  Stacey is an ACSM CPT, RKC as well as RYT through the National Yoga Alliance.  Her focus is strength training with a strong emphasis on postural integrity and alignment. This, paired with solid nutritional education for her clients creates the foundation for their success.  Not only do her clients learn to move properly, gain strength and eliminate pain, they learn to start listening to their bodies. As a result of her diverse fitness experience as a collegiate athlete, avid yogi and former professional figure competitor, Stacey is a wealth of knowledge for those looking to attain their ultimate fitness and nutrition goals.
Website, Facebook, YouTube, Twitter