Written by
Chad Wesley Smith
Many athletes will look back at their training and wonder, "what could have been?" or "what could I have done better?" and I am no different in thinking that. If given the opportunity to go back in time to when I began training, at 8, or the start of high school at 14 or even the beginning of college at 18, I think I could have built myself into a consistent 21m thrower. Hopefully the ideas in this article can help guide you and your athletes to avoiding the mistakes I made.
I began throwing the shot put at 8 years old, an age which many great champions (mostly from Europe) began their careers and march towards excellence. In the 15 years I competed in track & field, I was fortunate enough to come in contact with many great coaches and had a lot of success and as proud as I am of that success, it is difficult to not look back and see where my training failed.
As a college senior, I threw the shot 19.46m (63'10.25") and could consistently throw 17.75m (58'2") from the standing position. These throws were made possible by having a 475 pound (215kg) bench press, 675 pound (307.5kg) squat, running a sub 4.7 40, a 35.5" (90cm) vertical jump and 10' (3.05m) broad jump at 290 (133kg) pounds bodyweight. I knew that my general abilities (lifts, jumps, sprints) were on par, if not beyond, the abilities of many athletes who were throwing 21m (about 70') and beyond. How were they throwing farther than me, even though I was stronger and faster?
The answer, technique and special strength.
There are two primary examples that helped galvanize the value of these for me, Reese Hoffa and Justin Rodhe. Reese Hoffa is an all-time great thrower with a PR over 73'. Reese is coached by Don Babbit, one of the best (and most analytical) throws coaches in the World. It is the following table that began opening my eyes to the error of my ways in chasing general abilities to improve my sport performance…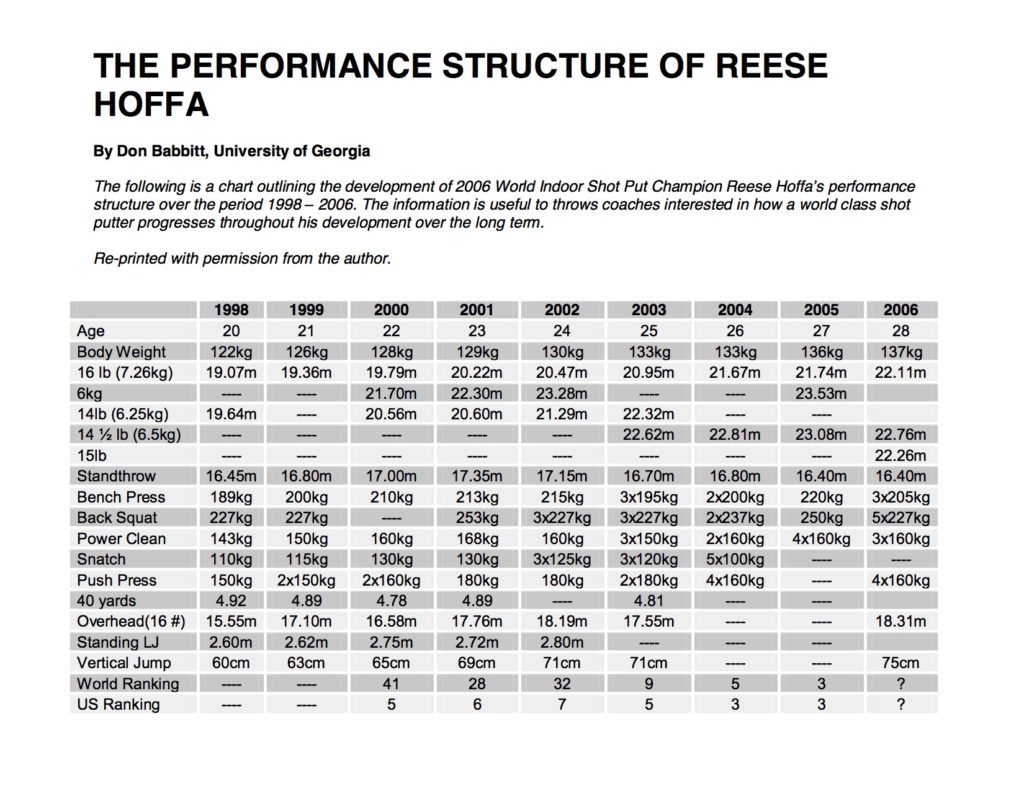 You can see in this chart that while my general indicators in the bench, squat, 40yd dash, broad jump and vertical jump are even with or well beyond Hoffa's and that even a special strength indicator, the standthrow, is far beyond his. It is interesting to note as well that his best stand throw result 17.35m happened in 2001 when he threw 20.22m and that it declined to 16.40m when he threw his then PR of 22.11m-does this mean the stand throw has a low correlation to the full? How could Reese throw so much further than me, when he couldn't lift as much, run as fast or jump as high, or even throw as far from the stand? He has better technique that allows him to more efficiently and effectively accelerate the shot across the ring, using nearly all of his strength and power, while my inefficient technique caused force leaks throughout the throw.
The other example that opened my eyes to the faults in my training, was Justin Rodhe. Rodhe took his PR from 18m (though was more consistent in the 16-17m range) in 2009 to over 21m currently. Rodhe was D3 Champion at Mount Union before moving to Canada to train with Dr. Bondarchuk, the pioneer of special strength training. Rodhe's monumental improvement is largely credited towards his technique improvement and special strength development with overweight implements, high volume throwing and submaximal weights. Justin's improvement was the final moment that pushed me into the realization that while general abilities are important, to succeed at the highest level you must develop technique and special strength to the highest levels.
I fell into the same trap that many throwers, particularly Americans, fall into. I was a good thrower and a great lifter, so I chased what I was great at. I kept trying to push up my strength, thinking that another 10 pounds on the bench would correlate to another foot on my throw. While the correlation of general strength improvement to throwing improvements were very high during my high school career, that correlation ran out as I become more accomplished. My general strength far outweighed my sporting result because I didn't devote enough time and energy to developing my technique and special strength.
If I could go back in time to the start of high school or even the beginning of college, I would have focused more on submaximal weights (moving 60-80% loads as fast as possible in sets lasting less than 6 seconds in duration) and thrown more (heavy, light and competition weight shots, medballs, puds, etc) and though I wouldn't have been as strong or fast during college when I was 22, I didn't need those general abilities to throw in the 19m range. Taking this approach to my training would have allowed me to reach the same general abilities by the time I was 26 or 27 years old but I would have arrived at them while also possessing much greater technical abilities and special strength, thus leading to much improved throws.
In parts 2 and 3 of this article, I will discuss in depth how I would structure throwing training (part 2) and weightroom training (part 3) for maximum results.
Chad Wesley Smith is the founder and head physical preparation coach at Juggernaut Training Systems. Chad has a diverse athletic background, winning two national championships in the shot put, setting the American Record in the squat (905 in the 308 class, raw w/ wraps) and most recently winning the 2012 North American Strongman championship, where he earned his pro card. In addition to his athletic exploits, Chad has helped over 50 athletes earn Division 1 athletic scholarships since 2009 and worked with many NFL Players and Olympians. Chad is the author of The Juggernaut Method and The Juggernaut Method 2.0.
Facebook, YouTube, Twitter