Written by
Brandon Lilly
While at the gym the other day I was talking with several of the guys about this, and that, and we were just going on about different aspects of our training. A little bit later one of my teammates (Kenny Mason) approached me, and asked what motivated me. He made clear that it was not a question of how to regain motivation, but rather how to keep motivation high even when you have achieved things that seemed impossible at one time or another. I took this very seriously because, one, I know Kenny would not have asked if the answer didn't mean something to him, and two, I like self exploration. I think it gives one an understanding of who, what, and where we are in our life cycle. The man I am today is most certainly not the man I was 5 years ago, and I hope to same the same in another 5 years. Understanding the "why" is understanding the self.
I have to say that from an early age I always wanted to be great at something. Anything. I loved epic tales of heroic individuals, and as a kid I remember hearing about someone in school, or in a movie, and I would rush home to the Encyclopedia set that we had at the time, and I would read as much as I could about these people. I was fascinated with what made them different. What did they possess? Why, out of so many billions of people who have inhabited this earth were these people more memorable? I had a professor in college explain it to me best:
"Most people who achieve something great set out to achieve something very normal, and in the process their greatness became normal." 
It took me a long time to understand what the hell he was talking about, but before I go further let me state that I do not think what I have done in powerlifting is great. Others have told me that it is, but to me what I do day in, and day out is my normal. Men that conquered the platform for decades are the ones that are great.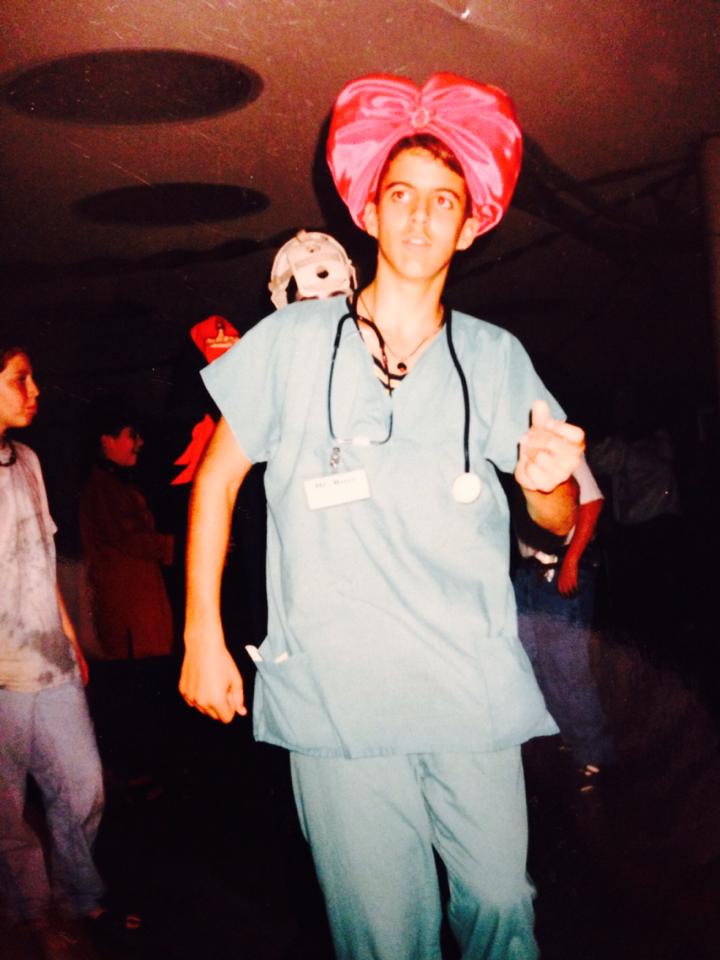 I remember when I began lifting weights I was barely 170 lbs. and that was fully clothed. I wanted so badly to be muscular, and for girls to take notice. I thought to myself "If I can weigh 185 lbs. that would be amazing." Well, 185 came, and then 200 lbs. took it's place, and the cycle has repeated itself all the way up until this moment when I weigh 325 lbs, and am eyeballing 350 lbs. to hit my goals. When these "ideas/goals" come into mind I don't question them, I just begin acting upon them. I don't sit and weigh out every risk… Maybe if I did I would talk myself out of it, but I am not a peripheral person. I am deadset, straight forward, so once a goal is set I will go to any lengths to achieve it. I also hate failure. Hate it. As a kid I remember being in the 6 year old basketball league, and if we lost a game I was literally seething mad until the next game. I was a terrible teammate because I hated being on a team with kids that didn't want it as much as I did. What was "it"?
Get Brandon's New eBook, 365STRONG, HERE!
As I got older, and up into high school I played soccer, and basketball. I also started venturing out into individual sports such as swimming/diving, tennis, racquetball, and track. The beautiful thing about individual sports is effort in, equals results on the field of play. The other factor that probably shaped me more than any other outside force in my life was a coach named Bunky Harkleroad. He had "it". A passion, a fire within… We clicked right away, but it also lead to some of the fiercest arguments in my life because we are very similar. I remember a drill in practice where we had to run with our hands up (think about making a football goal post with your arms). The kid that let his arms drop first got to sit down, and the rest of the team had to run even more. Well, I'm here to tell you that I never ever let my hands drop. One day though coach blew his whistle and told me to sit, as I had let my hands fall. I knew with everything in me they hadn't but here I had to sit and watch my teammates run with pure hate in their eyes towards me. I remember trying to get back down and run with them, and he threatened to kick me off the team if I kept running. After practice I was pissed, I chased him down and confronted him over the ordeal, and he looked at me and said something I have never forgotten to this day… He said "Lilly, goddamnit… You don't get it. Your hands didn't drop like this kids would, or that kids would. Your arms were up but they were tired… Weak. And against your standard THEY DID DROP. Don't you ever let your arms drop." And to this day he will write on my wall from time to time, or comment on a video "never let your hands drop" and it gives me chills.
You don't get the message? I didn't at first either, but when I got home I sat down by myself and thought for hours, I don't recall sleeping that night, but by morning the answer had come to me. I am not, and you are not judged by others standards. You are judged by what YOU can do. You are judged against what YOU have shown in the past… In powerlifting that is a tremendous reference to life mirroring the sport we love. It didn't matter if every other kids knuckles drug the ground, I had always kept mine up, and high so on a day that they sagged even a little it was noticed. That is what motivates me to this day in powerlifting. I feel that each day I have three goals in life: Be thankful, be better than yesterday, and help someone else. That is also how I approach powerlifting, I am thankful for this sport and what it has taught me, and the ability to compete, I strive to be better each day. I am surrounded by guys that bust their ass, and are hungry to get to the top, so what does it say to them if I come into the gym like I'm the big man on campus and do nothing? It's a slap in their face. I stay motivated because the fire inside me is burning so hot I can't turn it off. We all have good days, and bad days but even on my worst day I am doing everything I can to better myself as a lifter. I've invested too much time, and sacrificed too much to go half ass at it. If you are reading this I assume you are more than just a casual gym goer. Think about the hours upon hours, days upon days, weeks, months, years, decades you spend in pursuit of your goals, and you are gonna give anything less than your best? Get the fuck outta here with that bullshit.
I am no better than any man I have ever met. I am not talented in the ways that others are, and in many ways I am very average, but to have a goal, to have come this far, and to quit now? That's not only an insult to myself, but it's an insult to everyone that has invested time, and effort into the man I am today. And for me there is no other option than to keep my head down, and plowing forward… I will never let my hands drop.
Brandon Lilly is very well traveled, Elite powerlifter. He has trained at Guerrilla Squad Barbell, Westside Barbell, Lexen  Xtreme, and is now home at Berea Barbell. In his strength journey he has competed in bodybuilding, strongman, and powerlifting. Brandon is one of only 19 men to ever total over 2200 raw, having 2204 which ties him for 16th all time (826.5 squat, 573 bench, 804.5 Deadlift). Brandon amassed a 2612 total in Multi-Ply, and has best lifts of 1008 squat, 832 bench press, and 777 Deadlift. Brandon is the author of The Cube Method and 365STRONG and is aiming to create a paradigm shift in the Powerlifting world.