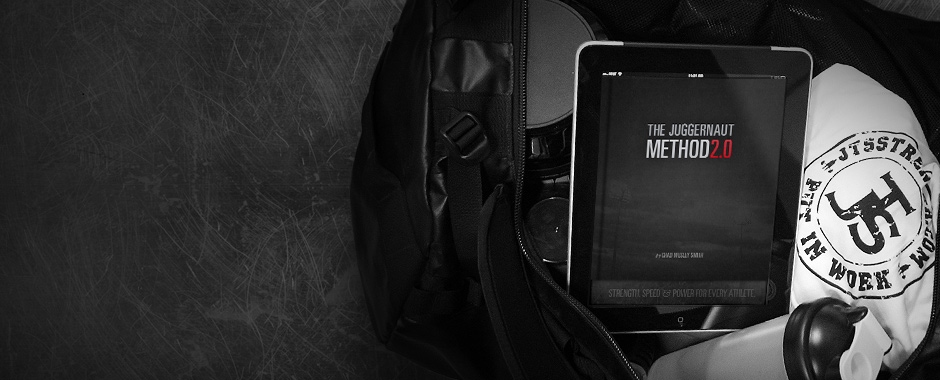 LEARN THE SECRETS ABOUT PERFORMANCE TRAINING THAT WILL MAKE YOU FASTER, STRONGER, MORE EXPLOSIVE AND BETTER CONDITIONED THAN YOUR COMPETITION!
Are you ready to improve your performance in the gym and on the field? How would you feel with a more explosive, stronger, better conditioned body? Do you want to be the most dominant athlete possible?
The Juggernaut Method 2.0 is the follow-up to the best selling Juggernaut Method ebook and includes all the programming and details that helped send 8 players to the NFL and 22 more to Division 1 universities in 2012 alone. The Juggernaut Method 2.0 is not just a sets and reps program to help your squat, bench and deadlift skyrocket, it is also a guide to sprint/jump training, medicine ball throws and sport specific energy system training to turn you into an athletic powerhouse.
The Juggernaut Method 2.0 is over 100 pages worth of physical preparation material geared at making you the fastest, strongest, most powerful and well conditioned athlete possible. In this informative ebook, you'll learn the following…
Introduction and Philosophy
-The foundational ideas of athletic performance training
-The value of submaximal training and results driven progress
The Program
-Explanation and outline of the different phases of The Juggernaut Method
-How to progress through each training session and from one training wave to the next
-The percentage, set and rep schemes that have produced champion strength athletes and All-Americans across a variety of sports
Warm-ups
-Specific warm-ups to prepare you for training sessions with a variety of emphasis and goals
-Video demonstrations of every warm-up maneuver and technique
Alternate Periodization Models
-The Inverted Juggernaut Method
-Undulating Periodization Model
-The Juggernaut Method and The 9 Day Work Week
Assistance Work
-Assistance training aimed at every physical goal
-Weighted dip and chin-up programs to build tremendous relative strength
Speed/Power Work
-How to organize sprint training for maximum acceleration, speed and change of direction performance
-Jump training to enhance rate of force development and explosive strength
-Medicine ball throws to improve total body coordination and explosive power with video demonstrations and explanations of each throwing variation
Conditioning
-How to increase your alactic capacity, aerobic capacity and lactic capacity
-How to manipulate conditioning to enhance your recovery
-Specific Football conditioning program
TJM2.0 for Powerlifting and Strongman
-Proper peaking strategies to ensure you are your strongest on the day of the meet
-Implementing strongman event training into your TJM program
-Periodization schemes for Strongman events
Nutrition
-Dietary guidelines for mass gain, body recomposition and fat loss
-Juggernaut's favorite recipes with macronutrient breakdowns
The information in this product outlines all of the details of athlete's training at Juggernaut which they pay up to $1000/month for.
Tons of videos
-These videos will allow you to see what you should and shouldn't be doing to ensure you are doing things exactly correctly.
This program gives you everything necessary to build your own athletic and strength training programs: Sets, reps, rest periods, special exercises, the works!
I have done all the trial and error on this training program, so you don't have to!
The Juggernaut Method is the program that brought me my first 800 pound squat and 700 pound deadlift.
In 11 short months as a competitive powerlifter I was able to grow those numbers to a 905 pound American Record raw squat, 515 pound bench press and 785 pound deadlift, while still maintaining the athleticism for 50" box jumps at over 300 pounds bodyweight.
The principles in this program haven't just brought me great athletic success, they have earned Juggernaut's clients NFL contracts and Division 1 athletic scholarships.
In 2012, Juggernaut athletes took the NFL Combine by storm recording Top 5 results for their position in the 40yd Dash, 20 yd Shuttle, 3 Cone Drill, Vertical Jump, Broad Jump, 60 yd Shuttle and Bench Press! These accolades allowed 7 Juggernaut athletes to be selected in the 2012 NFL Draft.
Furthermore, the concepts in The Juggernaut Method 2.0 helped Juggernaut's 2012 College Football Training Group add an average of 25.5 pounds of muscle to their frames, increase their bench presses by an average of 85 pounds, improve their squat by an average of 124 pounds, increase their vertical jump by an average of 2.9", improve their broad jump by an average of 9.75" and take an average of .27 seconds off their 40 yard dashes. As well as helping them earn scholarships to USC, UCLA, University of Washington, University of Arizona, Louisiana Tech, Air Force Academy and more.
Real Testimonials, Real Results
With an accessible approach, rooted in proven performance enhancement strategies, Chad's Juggernaut Method 2.0 is a truly complete training program. Not often will you find a product that covers all the training demands an athlete needs to excel at his or her given sport, and organizes them in a logical and productive fashion. Best of all, Chad has made the program adaptable to athletes of any sport, at any level. If you want to take your training, and / or your team's training to the next level I highly recommend you check this out!
Greg Robins
Strength and Conditioning Coach – Cressey Performance
GregTrainer.com
The Juggernaut Method is the real deal for athletes and coaches who want to enhance their athletic performance. Chad's program is extremely well thought out and the results of Chad's athletes speak for themselves. The Juggernaut methods goes well beyond just strength development, the program includes speed and power development along with how to warm-up properly as well as nutrition. I highly recommend the Juggernaut method to athletes and coaches who want a proven system to enhance athletic performance.
Joe Meglio
Strength and Conditioning Coach-Underground Strength Gym
MeglioFitness.com
I wanted to say thank you and to share with you my success under your Juggernaut program. By utilizing your program I have hit a lifetime PR in my overhead axle press at 245 lbs. I also hit new lifetime PR's in my deadlift and my squat. Having competed in Strongwoman competitions for many years using a strength program I thought was the best I was skeptical at first. However I am now a believer! Go Juggernaut or go home!
Kristin Rhodes
5 time America's Strongest Woman Strongwoman National Champion
When the original Juggernaut Method book came out I picked it up right away because I am always looking to explore and experiment with new methods in training. As the owner of a sports performance facility for high school and college athletes I get paid to produce results and improvements in strength and power. We have used the Juggernaut Method for the past couple years since the book came out. To say the results have been impressive would be an understatement. 75 – 100 pound increases on squats, 30 – 50 pound increases on bench press were common, and in many cases, this is with athletes who were already fairly strong relative to their bodyweight. When a 16 year old female squatted 225×20, well I knew we were onto something here! I also like it because it works well across the board for younger and weaker athletes as well as stronger and more experienced ones. It is our "go to" methodology form programming our main lifts. With the Juggernaut method 2.0 Chad has stepped it up a level again. Don't think this is just the old Juggernaut book with a couple of bells and whistles added. The new version is packed with new information and would, in my opinion, benefit anyone from the average joe training in his garage to the professional strength and conditioning coach like myself.
Andy Hepler
Hepler Strength and Conditioning
HeplerStrength.com
Coming from a background of high level athletics, and powerlifting I feel the Chad has struck a balance with the Juggernaut Method that is lacking in today's athlete training. Chad not only lays out systematically how to become stronger and faster, but how each athlete can improve their weak areas, while adding to their strengths. If you are a coach, or an athlete you should look no further than the Juggernaut Method.
Brandon Lilly
Elite Level Powerlifter
Author of The Cube Method
What Else Do I Get?
I think The Juggernaut Method 2.0, at any price under $100, is an awesome deal. But I think like a consumer-I want a ton of value, and I love it when I feel like I'm getting more than my money's worth. And for that reason alone, I've got tons of cool bonuses and add-ons to make this product even better for you.
#1-The 6 Ways to Better Use the Prowler Manual
Outlining how to effectively utilize the Prowler to improve your speed, strength, and conditioning and improve your health and recovery.
#2-Interview with Oakland Raider Alex Parsons
An exclusive audio interview with Alex Parsons, Oakland Raiders offensive lineman in which he discusses the training that took him from High School All-American, to Rose Bowl Champion at USC, to a starter for the Oakland Raiders.
#3-Chad Wesley Smith Interview
An exclusive audio interview with Chad Wesley Smith, Juggernaut Method 2.0 author, champion track & field athlete ,and record holding powerlifter outlining how to effectively integrate speed, strength and conditioning into the same training plan for maximum results.
How much does this cost!
The time and money that has gone into acquiring this knowledge, doesn't even begin to compare to the countless hours spent under the bar and training my athletes to acquire the real world, practical knowledge that goes into this book.
Even if you paid to attend a seminar I was speaking at, chances are the registration fee alone would be at least $250, and that's not even including travel, lodging, food and the cost of spending time away from your family and business.
This rate is a limited time offer and will be dramatically increasing soon, so you need to act NOW!
I'm sold-what do I do now?
First off, don't wait!