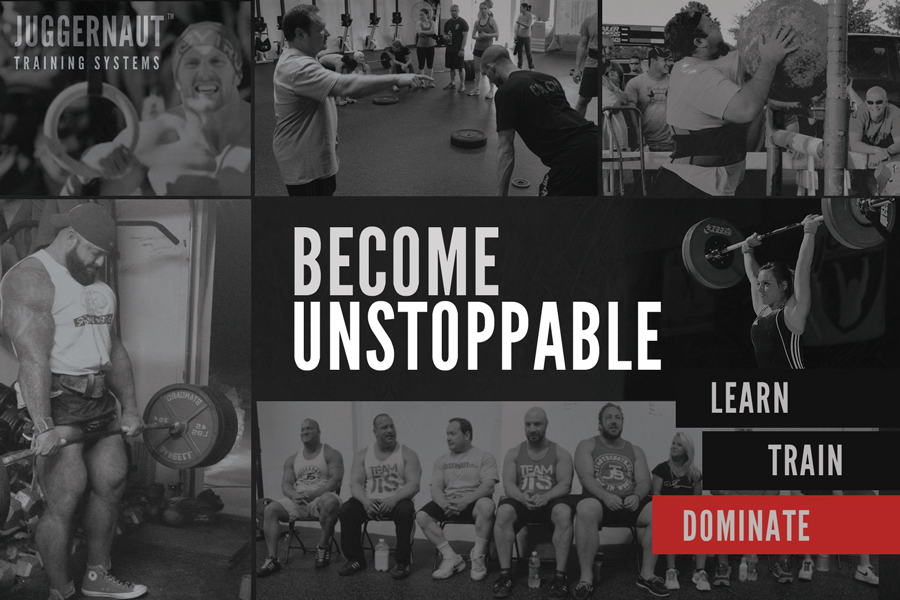 Are You Ready To Become Unstoppable?
Juggernaut is bringing you an amazing seminar experience to learn from the strongest athletes and smartest coaches in the World. No other seminar will bring together this caliber of coach in such a wide array of fields.
From Powerlifting, to Olympic Weightlifting, Strongman, mobility and more, you'll listen to and be coached by the best athletes and coaches in the World in their respective fields.
At this seminar you will learn through lecture and Q&A from some of the top coaches in the World. As well as receive hands on coaching in Squat, Bench, Deadlift, Clean & Jerk, Snatch, Strongman and Mobility. No other event brings together this level of coaching expertise in this variety of topics. Attending this seminar will help make you a much more well rounded coach and athlete.
The next Become Unstoppable Seminar is coming to the Warehouse Gym, just outside Houston, TX, on March 15-16th. Check out this awesome speaker lineup and some of the confirmed coaches…
Josh Thigpen and Dr. Zachary McVey
Josh and Dr. McVey are the authors of The Performance Nutrition Encyclopedia and combine real world strength excellence (Josh is a 4x World's Strongest Man competitor) with scientific knowledge (Dr. McVey is a sports diplomate) and will be presenting on nutrition to help your maximize performance across all strength sports.
Check out these articles from Josh: 3 Great Supplements for Every Strength Athlete,All Milk Is Not Created Equal, Performance Nutrition Q&A.
Sam Byrd
Sam Byrd is a legend in the powerlifting World and arguably one of the best squatters of all-time. With World Records in multiply, raw w/ wraps and raw across multiple weight classes, Sam's resume speaks for itself. Sam will be presenting on training the squat and giving you insight to how he built his record breaking strength.
Check out these articles from Sam: Squatting Big, Know Pain No Gain

Dr. Quinn Henoch
Dr. Henoch, received his Doctorate of Physical Therapy from the University of Indianapolis and is an authority in movement quality. A former college football player and current competitive weightlifter, Dr. Henoch, walks the walk along with talking the talk. He will be presenting on assessing athletes and enhancing movement quality.
Check out this great article from Dr. Henoch: Supple Leopard vs The World
Colin Burns
Colin Burns is one of the top Olympic Weightlifters in the United States, having represented the US at the PanAm Games in 2013. Colin's analytical approach to training has helped him rise to competitive excellence in his fairly short competitive career and with a background as a strength coach for the University of Wisconsin and University of Michigan, he understands how to coach athletes to maximize their potential. Colin will be presenting on implementing the Olympic lifts into training for athletes.
Check out these great articles from Colin: 10 Things You Need To Know Before Starting Weightlifting, 3 Common Mistakes in the Snatch, Teaching the Pull
Check out Colin hitting some big lifts recently, including a 166kg Snatch!!
In addition to these presenters, the seminar coach staff will consist of…
Powerlifting
Blaine Sumner-World Record Squat of 881 raw w/o wraps in the SHW class
Brandon Lilly-Top SHW total of 2237 raw w/ wraps and author of The Cube Method
Caitlyn Trout-World Record Squat of 352 raw w/ wraps in the 123 class
Corey Hayes-Raw w/ wraps PRs of 725, 455 and 675 in the 220 class.
Weightlifting
Anthony Pomponio-PRs of 150/180kg in the 85kg class.
Ariel Stephens-PRs of 85/105kg in the 69kg class.
Reene Tenorio-American Open qualifier and Doctor of Physical Therapy
Reid Worthington-20th place finisher at 2013 Crossfit SoCal Regionals. Coach at Citizen Crossfit
Strongman
Robert Oberst-2013 World's Strongest Man competitor
Maya Winters-2012 North American Strongwoman Champion (middleweight)
Kalle Beck-6th place finisher at 2013 Arnold Strongman Fitness World Championships
Mobility
Ryan Brown-Owner of Darkside Strength
Dr. Jason Reynolds-Sports Diplomat Chiropractor
SEMINAR INFORMATION
What: Become Unstoppable Seminar II
When: March 15-16th
Where: The Warehouse Gym, League City, TX (Just outside Houston)
How Much: $350 Register Today ONLY for $299.99
Hotel: Hotel Information will be released soon
Preview of the weekend…
Saturday, March 15th
8:45am-Registration/Introduction
9:00am-Josh Thigpen/Dr. Zach McVey Presentation
10:00am-Coaching Station 1 (There will be stations for the Squat, Bench, Deadlift, Strongman, Clean & Jerk, Snatch and Mobility)
11:00am-Coaching Station 2
12:00pm-Break for Lunch
1:30pm-Sam Byrd Presentation
2:30pm-Coaching Station 3
3:30pm-Coaching Station 4
Sunday, March 14th
9:00am-Dr. Quinn Henoch Presentation
10:00am-Coaching Station 5
11:00am-Coaching Station 6
12:00pm-Break for Lunch
1:30pm-Colin Burns Presentation
2:30pm-Coaching Station 7
3:30pm-Roundtable Q&A
The Seminar will conclude by 4:30pm and is located 45 minutes away from George Bush (Houston) Airport.