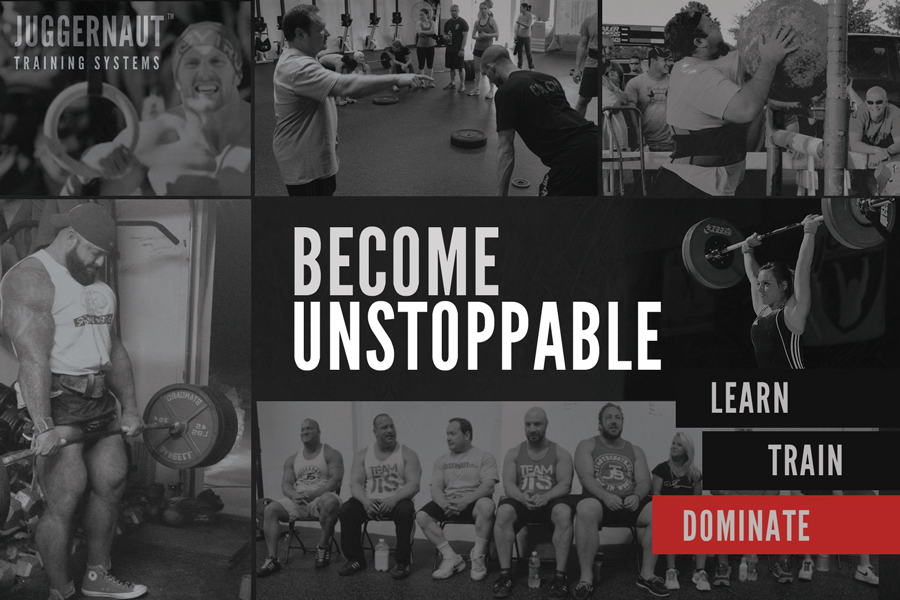 Are You Ready To Become Unstoppable?
Juggernaut is committed to bringing you the highest quality training education to help you and your athletes reach your goals. Juggernaut is presenting seminars, clinics, webinars and Train with a Juggernaut events to give athletes and coaches across the country and world the opportunity to learn from and interact with the Strongest Team in the World. Topics pertinent to Powerlifting, Strongman, Weightlifting, Crossfit, Bodybuilding, Sports Training and more will be covered during these events.
Juggernaut Seminars are 2 Day Events filled with expert speakers in a variety of topics and coaching from all of Team Juggernaut in the squat, bench, deadlift, snatch, clean & jerk, strongman movements and mobility. Juggernaut Seminars are staffed by coaches and athletes who are the current leaders in the athletic performance world; from World Champions, to record holders, and the coaches who are guiding them there, no other event brings together the caliber of coaches that you will find here. Learn More About Juggernaut Seminars Here!
Juggernaut Clinics are a unique opportunity to be coached by Team Juggernaut-The Strongest Team in the World, in a small group environment. Juggernaut Clinics combine lecture from top coaches in their fields, Q&A to ensure you get your specific questions answered and hands-on instruction from athletes who are among the best in the World in their respective fields. Juggernaut Clinics are happening all the time across the country and helping people improve in Powerlifting, Strongman, Weightlifting and Movement. Learn More About Juggernaut Clinics Here!
See what people are saying about Juggernaut Seminars and Clinics!
"The fresh insights they had into useful concepts was what showed me their extensive knowledge and passion in their field."

-Alexandra Bardales
"The seminar was informative and fun! The personal attention in the small group setting gave me the opportunity to be coached, and learn from Team JTS's coaching of others through the session. PRs were happening all over the place. I'm excited to check out his other seminars!"

-Jenn Null
Juggernaut is also bringing you two new and unique education opportunities, Juggernaut Webinars and Train With A Juggernaut events!
Juggernaut Webinars are a series of online events to bring the World's top coaches and athletes right to your computer screen to teach you about a variety of training related topics. Webinar's are limited to 50 online attendees to ensure your questions get answered. Juggernaut Webinar formats will be a mix of lecture, Q&A and also give you the chance to observe top coaches doing what they do best, coaching-where you will see what cues they give and learn why they are giving them. Learn More About Juggernaut Webinars Here!